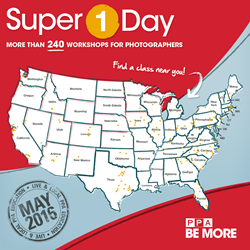 Photographers looking for new inspiration or extra professional development don't need to go far this spring.
Atlanta, GA (PRWEB) April 26, 2016
Photographers looking for new inspiration or extra professional development don't need to go far this spring. From May 9-23, dozens of studios across the country will invite attendees to join daily workshops as part of Super 1 Day—another educational benefit from Professional Photographers of America (PPA). Super 1 Day is designed to fit anyone's educational needs and schedules with classes featuring portrait and wedding photography, posing and lighting, digital retouching and workflow, and sales and marketing strategies-a full day of peer-to-peer photography education. Over 200 classes will be offered across the nation, more than ever before, helping PPA photographers and non-members alike better their photography and business skills. Super 1 Day is a bi-annual, learning extravaganza taught by professional photographers for professional photographers. PPA calls upon its members to volunteer to teach and share their strategies and techniques with fellow artists. The result of Super 1 Day is a more skilled and cohesive photography industry, aligning with PPA's mission as a nonprofit.
Super 1 Day's semiannual event offers photographers around the country the opportunity to learn from their peers at a nearby professional studio or location. The participants obtain useful knowledge from a professional in their local market; in addition, the experience helps develop the participant's own personal and professional network, which is vital for small business owners to succeed. Every type of photography learning, from business and pricing to creative inspiration, will all be available to participants of Super 1 Day. Whatever a photographer might need help with, there's a class that can help.
PPA membership is not required to attend Super 1 Day classes or workshops, but PPA photographers will earn one service merit for attending each workshop. These merits go toward earning PPA degrees, prized professional distinctions recognized by the industry and that only the most dedicated photographers possess. All attendees will receive a Bonus Pack including exclusive discounts and offers from several leading photographic companies.
Registration for Super 1 Day Photo Workshops is available for $99 until May 3rd. On-site registration will be available (space permitting) for $120. Registration and class information can be found online at PPA.com/Super1Day.
About PPA:
Professional Photographers of America (PPA) is the largest international nonprofit association created by professional photographers, for professional photographers. Almost as long-lived as photography itself, PPA's roots date back to 1869. It assists more than 29,000 members through protection, education and resources for their continued success. See how PPA helps photographers be more at PPA.com.