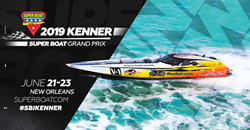 This is an exciting announcement for our city. It's been some years since Kenner hosted a powerboat race. Events like this continue to put our city on the map and attract visitors and business to Kenner. I am looking forward to this exciting event. —Mayor Zahn
NEW ORLEANS, La. (PRWEB) January 24, 2019
Super Boat International has announced that its first official race of the 2019 season will take place June 21-23 in New Orleans. The city of Kenner—a nearby New Orleans suburb—will welcome race teams and fans to the three-day race launching from the shores of Lake Pontchartrain.
This is the first official 2019 race confirmed by Super Boat International, the premier national and international sanctioning body of offshore powerboat racing around the world. The Kenner Super Boat Grand Prix has been in the works since last September, and the Super Boat team has expressed enthusiasm at finally returning to the New Orleans area to offer an exciting event that can be enjoyed by everyone.
"My last race in New Orleans was in 2002 when I raced in the world championships," recalls John Carbonell, president of Super Boat International and a former professional power boat racer. "I am really looking forward to seeing a lot of the old friends I raced with there—I have fond memories not just of racing, but also of those races I produced. There are so many reasons Kenner and New Orleans are special. It will be great to be back to start this year's race!"
The Kenner Super Boat Grand Prix will open on Friday night with a welcome parade starring the race teams and their boats. Spectators will also have the chance to eye some classic automobiles that will take part in the parade and will remain available for viewing at the dry pits throughout the three-day event.
One Kenner resident who is thrilled to see Super Boat come to town is a very proud Mayor Zahn, who is just as excited as everyone else about Super Boat's big return to the city.
"This is an exciting announcement for our city. It's been some years since Kenner hosted a powerboat race. Events like this continue to put our city on the map and attract visitors and business to Kenner. I am looking forward to this exciting event."
Super Boat remains immensely popular with fans around the world, and their social media presence exceeds that of any other racing organization. Something the organization is proud of.
"We've always had the best fans in the business and they are the reason we have achieved so much success," says Carbonell. "They are anticipating a lot, and we have no plans on letting them down."
Super Boat can be followed on Facebook, Instagram, Twitter and Youtube. All of Super Boat's races, including the Kenner Super Boat Grand Prix 2019, are available for viewing in real-time at no cost on the Super Boat live stream channel on Livestream.
Super Boat is currently working on three major races to add to the 2019 roster and will make the announcements for their dates and cities once they are finalized.
To follow up on schedules and announcements, visit superboat.com.
About Super Boat International
Super Boat International (SBI) is the leading North American professional powerboat organization founded by John Carbonell. Teams from all around the world compete May through October in the National Series Points races and conclude in November for the famous Key West World Championships. SBI produces weeklong race events including entertainment, kilo races and distance records throughout the United States, South America and the Bahamas. Races include the World's fastest Vee-bottom and Catamaran style powerboats, reaching speeds in excess of 180 mph. Super Boat International has seen increased viewership by fans, families and other racers tuning in and watching the events live on livestream.com/sbi. Since the previous years of the Key West World Championship, the online coverage has continually increased. With well over a million page views on Superboat.com, streaming coverage has been seen in 187 countries around the globe.