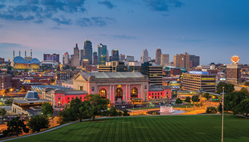 SAN FRANCISCO (PRWEB) January 30, 2020
Super Bowl fans knew it was coming: The heads of tourism bureaus Visit Kansas City and San Francisco Travel have placed a wager on the outcome of the Chiefs vs. 49ers game on Sunday, Feb. 2, 2020.
If Kansas City wins, San Francisco booster Joe D'Alessandro will be seen embracing the iconic foods of the City of Fountains. If San Francisco wins, Visit Kansas City's Jason Fulvi will do the same with the City by the Bay's treats.
Either way, the loser wins. Both cities score big on what to eat and drink.
"Kansas City has been waiting five decades for the Chiefs to return to the Super Bowl—it's been amazing to see the entire community rally behind this team," said Visit KC President & CEO Jason Fulvi. "This region is ready to embrace the international spotlight in what we expect will be a great game, and we're happy to be part of the action with this wager against San Francisco Travel."
"After the San Francisco Giants won the World Series in 2010, 2012 and 2014, and the Golden State Warriors took the NBA Championships in 2015, 2017 and 2018, you'd think we'd be used to these big games - but we're not! We're as excited as ever that the 49ers might finally win their sixth Super Bowl and we're putting together a super delicious shipment for our friends at Visit KC," said Joe D'Alessandro, president and CEO of San Francisco Travel.
In Kansas City, Boulevard has been the beer to drink since 1989 and is now distributed in 40-plus states, with a line of canned cocktails in production. In San Francisco, Anchor Steam has been the local brew since the California Gold Rush of 1849. The brewery spawned the distillery, Hotaling & Co.
For a stronger sip, the Horsefeather (whiskey, ginger beer, bitters and a squeeze of lime) is the local cocktail in Kansas City. The Martini, favorite of James Bond, was born in San Francisco of gin (some prefer vodka) and a whiff of vermouth, garnished with olives or onions.
With its proximity to world famous wine regions like Napa and Sonoma, San Francisco is definitely a wine-lover's destination. Less well-known is the fact that Kansas City also has roots in the wine industry and makes a strong showing in modern viticulture, with "Wine Enthusiast" saying Kansas City "needs to be your next wine destination."
Kansas City—renowned for barbecue—puts its protein in the smoker, whether it's brisket, pork, chicken or even vegan-friendly jackfruit. San Francisco feasts on local seafood, especially sweet, rich Dungeness Crab.
Dining uptown? Order the Kansas City strip steak. On the West Coast, visit one of the 90 Michelin-starred restaurants in and around "the city."
For a casual treat, order some burnt ends with your barbecue—they're crunchy, juicy and fatty all at once. In San Francisco, visit the Mission District and order a Mission burrito, extra-large with extra rice and everything you like.
Finish your meal of two cities with the most beautiful chocolates ever, crafted by Kansas City's Christopher Elbow. In San Francisco, it's back to the booze with an Irish Coffee at the Buena Vista Cafe.
Of course, both cities are big on the arts and other creative endeavors, with well-deserved bragging rights on museums, galleries and performing companies. For example, each city has a beloved and oversized work by Claes Oldenburg and Coosje van Bruggen on display. In Kansas City, it's "Shuttlecocks" at The Nelson-Atkins Museum of Art. In San Francisco, "Cupid's Span" graces the Embarcadero just north of the Bay Bridge.
As the big game arrives, one extra commonality is evident on the streets of both cities—the Paris of the Plains and the City by the Bay are both painted in red. From Kansas City's historic Union Station and Spanish-inspired Country Club Plaza to San Francisco's City Hall and Coit Tower, both destinations are eager for game time to arrive.
Of course, only time can tell which city will be bathed in a glow of victory when the clock expires on Sunday evening.
About Visit KC:
Visit KC is a non-profit organization whose mission is to ignite global passion for Kansas City. Through marketing, sales and service of the convention and tourism industries, Visit KC supports a vital and growing component of the local economy—generating nearly 48,000 jobs and $5.6 billion in economic impact annually. For more information about Kansas City, go to VisitKC.com.
About San Francisco Travel:
The San Francisco Travel Association is the official destination marketing organization for the City and County of San Francisco. For information on reservations, activities and more, visit http://www.sftravel.com or call 415-391-2000. For more about San Francisco, follow http://www.facebook.com/onlyinSF, http://www.instagram.com/onlyinsf and https://twitter.com/onlyinsf.
# # #