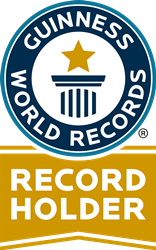 TAMPA, Fla. (PRWEB) February 16, 2021
Today, Super Squares®, the live mobile game show that launches Advertising as a Sport™, announces it has set the GUINNESS WORLD RECORDS title for the largest online sport square tournament, by reaching 12,529 players. In addition, Super Squares® announced its Grand Prize winner who shall receive a brand new $80,000 Rivian Electric Adventure Vehicle when the ground-breaking vehicle starts rolling into production later this year, alongside an additional 70 prize winners.
On Sunday February 7th, Super Squares® players made history and became GUINNESS WORLD RECORDS titleholders for an Online Sport Squares Tournament using the app during Super Bowl LV. Prior to kickoff, members of the Super Squares® team, including notable NFL analyst Mike Golic, and NFL Super Bowl XLVII Champion and Commissioner of Sports at React, Matt Birk, headed to Florida's largest sports bar, Ferg's Sports Bar, where roughly 1,500 energized NFL fans gathered to enjoy the game and play Super Squares®. As fortune would have it, the threshold of 10,000 players was eclipsed live at Ferg's just before 5:00pm due in part to the surge of sign-ins from those in attendance. Afterwards, the Super Squares® studio started the fun on its Twitch.tv channel, as more than 2,000 additional players joined the game before kickoff.
"The Super Bowl is a key moment in American culture that puts brands in the spotlight of the biggest live sporting event on television. We are excited to announce our setting a GUINNESS WORLD RECORDS title and have all of our players to thank," said Frank Maggio, founder and CEO of React. "Putting brands at the center of the action and creating a way for them to engage with their consumers while respecting their time and attention has been an important part of what React is bringing to sports fans and brands. Having a record number of fans participate demonstrates a resounding endorsement of a more respectful, rewarding, and accountable way for fans and brands to interact."
For the Super Bowl, Super Squares® concluded a two month tournament featuring a $2.4M prize pool. Seventy $500 Prize Packs were awarded to Winners and their "Buddies," and the Grand Prize, an $80,000 Rivian Electric Adventure Vehicle, was awarded to the game's highest scoring player. The grand prize winner was Steven Van Voorhis from Menomonie, WI with an impressive score of 71.624 and his reactions to being crowned the champion were captured live on the Super Squares® Twitch Stream.
Super Squares® is a free and easy to play mobile app. Before the start of a football game, players make three predictions, react to and rate two sponsor ads, and claim their first "Super Square" containing four score combinations. Fans are rewarded for their game prediction, rating and answering questions about the ads correctly, and matching their Super Squares to one or both scores each quarter. The data gathered from the "reactive ad process" provides participating brands and agencies with measured ad effectiveness as well as census-level verified fan engagement and sentiment, measurable over time.
About Super Squares®
Super Squares® is a patent-protected, free mobile version of the popular score-matching "squares" game that allows sports fans to play against each other every week during the airing of NFL games, and soon, other pro sports. Players are presented with a blend of prediction and ad-based quizzes to answer before and after kickoff, and win prizes for correct answers, accurate predictions, and partial or full matching of their Super Square to the football games' scores. Super Squares® is available for download in the Apple App Store and Google Play. For more information on Super Squares visit http://www.SuperSquares.com
About React
Founded by adtech and media measurement maverick Frank Maggio, React LLC is an experiential advertising technology and entertainment company that thinks of "advertising as a sport™." By adrenalizing advertising™, React excites audiences with rewarding, branded two-screen experiences during the most viewed and attended sporting and media events in the world. The company's commitment to "respect, protect, and reward attention" honors user privacy by never selling or sharing personally identifiable information. Details about React can be found at http://www.react.net, and Super Squares® details are available at http://www.SuperSquares.com.