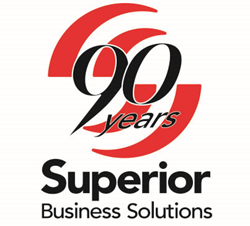 "Game changing ideas that help businesses save time and money and increase sales and profits—it's what we've been bringing to the table for 90 years."
Kalamazoo, MI (PRWEB) November 25, 2014
Superior Business Solutions, http://www.inkonit.com, introduced their first app 90 years ago; one so revolutionary, it became a staple business application for well into seven decades. In fact, it's not uncommon to still see it in use today. In 1924, Superior took the simple sales order book mainstream—introducing businesses to printed order forms and carbon paper bound together to generate original and duplicate copy forms simultaneously.
"Certainly, the simple order book, like the order pads and guest checks you might still see in use at Mom and Pop coffee shop, may seem rudimentary in comparison to the print and electronic technologies and applications we deliver today," says Bill English, President of SBS Brands. "But ninety years ago, it was groundbreaking. At the time, the solution introduced new workplace efficiencies and brought productivity to a whole new level—the very qualities we strive for in our sophisticated solutions now which also include app development. " Bill English is one of three third-generation family members leading today's company, joined by brothers Tim English, VP Sales and Operations and Tom English, MIS/Corporate Manager.
Celebrating their 90th Anniversary this year, the company was founded as Superior Business Forms by their grandfather, Robert English, and was subsequently owned and operated by their father and uncle, Richard English and Thomas English. The company flourished as Superior's order book became a model for innumerable variations of duplicate form applications across diverse industry channels—including manufacturing, automotive, logistics, banking and others. The company grew and expanded over the decades as a distributor of an expansive line of printed products representing over 1000 printing plants across North America.
In the early 90s, recognizing the disruption computer technology was about to bring to the forms business and printing industry in general, the company turned impending upheaval into opportunity, embracing the technology and reinventing itself to stay relevant and competitive. In the process, they renamed the company Superior Business Solutions to more broadly represent the diverse range of innovative business products and services they now bring to the market.
For the past two decades, Superior has been providing businesses with integrated print, digital, web and promotional marketing automation services while introducing numerous technologies and solutions facilitating print management, procurement, marketing and sales enablement.
In addition to Superior Business Solutions, there are now six brands under corporate SBS Brands umbrella—Corporate Kiosk, Scope 1, demandLEAP, THYNK Direct, FactoryDirectPromos.com and Proteus B2B Marketing—primarily serving specific niches in the business-to-business (B2B) space. The company operates nine offices in six states.
"At the end of the day, whether it was printed forms and carbon paper then or electronic technologies now, they are just tools. It's how we integrate print, digital, web, mobile, social and other technologies into custom applications and solutions—and how they help businesses optimize operations, workflow, efficiency and productivity that differentiates us," says Tim English. "Game changing ideas that help businesses save time and money and increase sales and profits—it's what we've been bringing to the table for 90 years."
SBS Brands and Superior Business Solutions is officially marking the introduction of their "first app" and the company milestone with a 90th Anniversary commemorative gift, which customers and friends can access on the company's website HERE.
###
About Superior Business Solutions: Superior Business Solutions, part of SBS Brands, is an industry leader providing businesses with integrated print, digital, web and promotional technologies and services with marketing and sale enablement and print management and procurement solutions. Founded in 1924 and headquartered in Grand Rapids Michigan, the family-owned business operates nine locations in six states under the SBS Brands umbrella.