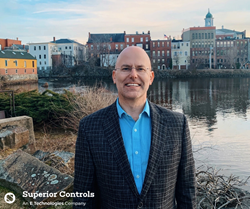 Matt brings a wealth of process control experience to Superior Controls along with his business acumen.
SEABROOK, N.H. (PRWEB) March 19, 2020
Superior Controls, Inc., an E Technologies Company and leading U.S. control system integrator of custom industrial automation and IT solutions for the Life Sciences industry, today announced the recent hiring of Matt Lyles, who will be the Senior Business Development Engineer working out of the company's Seabrook, New Hampshire office. In his new role, Lyles will use his extensive experience in process control applications to assist customers in the pharmaceutical and biotech industries.
Lyles is not entirely new to the Superior Controls team, having served as a senior engineer for the company earlier in his career. Prior to rejoining Superior Controls, Lyles expanded his engineering and leadership skills, serving in a variety of lead controls and automation engineering positions in the biotechnology, pharmaceutical, and other industries. A graduate of LeTourneau University, Lyles holds a Bachelor of Science in electrical engineering, and also holds an Associate of Applied Science in instrumentation technology from Texas State Technical College.
"Matt brings a wealth of process control experience to Superior Controls along with his business acumen," said Rick Pierro, co-founder and president of Superior Controls. "Matt is joining our management team, which will allow us to continue delivering the highest level of service to our biotech and pharmaceutical customers. Many of our longtime customers know Matt well and will be delighted he has rejoined our team."
Lyles explained his decision to rejoin the team commenting, "I've met and worked with multiple system integration companies over the past five years throughout the U.S. Having had prior exposure to the Superior Controls engineering and business practices, I always measured each of these companies against that. None were superior to Superior Controls; I am excited to contribute to the company's continued success."
In 2019, Superior Controls and its west coast division, Banks Integration Group, were acquired by Falfurrias Capital Partners-backed E Technologies Group. The combined company has 14 offices across the U.S., and has an experienced, diverse technical staff of more than 380 engineers. Together Superior Controls and Banks Integration are the E Technologies Life Sciences Center of Excellence.
About Superior Controls
Since 1993, Superior Controls, an E-Technologies Group Company, has reliably delivered professionally executed automation and control systems integration services to leading biotech and pharmaceutical companies in 36 states and 15 countries. In addition to being seven-time certified by the Control System Integrators Association (CSIA), Superior Controls has passed over fifty quality management and validation audits and is a Rockwell Automation Solution Partner. With the 2017 addition of Banks Integration Group, a ten-year Rockwell Automation Solution Partner on the West Coast, the company works nationally with industry leaders such as Pfizer, Biogen, GE Healthcare, Genentech, Gilead and more. Superior Controls and Banks Integration Group have four engineering offices located in Seabrook, New Hampshire, Albany, New York, Vacaville, California and South San Francisco, California. For more information, visit Superior Controls' website, LinkedIn, Facebook and Twitter.