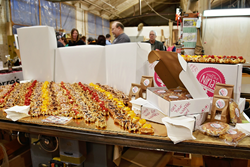 This grassroots event is an amazing display of how members of the local community can support one another, strengthen our local economy and improve our community. It is truly a unique event that you must experience
DOYLESTOWN, Pa. (PRWEB) February 14, 2020
The community is invited to attend Bucks Locavore ~ Buy Local Event which is Bucks County's Best Foodie Event (2018 & 2019) and Best Networking Event (2017) hosted by Superior Woodcraft. The 11th annual event, celebrates and promotes independent, locally owned businesses in and around Bucks County, PA. Over 35 of the region's top food and beverage purveyors are showcased.
Superior Woodcraft, Inc., nationally-acclaimed custom cabinetmaker once again hosts this exceptional networking event showcasing locally produced products from in and around Bucks County, Pa. Over five hundred guests are expected to gather at Superior Woodcraft on Thursday, February 20th, from 5:00 pm to 8:00 pm.
Attendance is free however we expanded the scope of the Bucks Locavore ~ Buy Local event to include a community service component. The Bucks County Housing Group's Community Food Pantry at Doylestown will be on hand to collect donations of canned and dry food goods as well as cash donations. The event is ideal for local businesses and community members to help support our community and expand their business opportunities. It is a perfect example of how local businesses help support our community in so many ways.
Guests attending the Bucks Locavore Event will relish in amazing cuisine inside a historical factory building where custom cabinets are handcrafted. Business owners are invited to come network and strengthen their business partnerships while learning more about the exceptional quality and diversity of locally available goods, products and services.
Over thirty five local producers will be offering scrumptious samples of their products, including Altamonte's, Anna P's Catering, Bagel Barrel, Bishop Estate Vineyard, Buckingham Valley Vineyard, Bucks County Cookie Company, Castle Valley Mill, Crooked Eye Brewery, Confection Perfection, Don't Worry Bee Healthy ,Hewn Spirits, Homestead Coffee Roasters, Jamie Hollander Gourmet Food and Catering, Just Food, Geronimo Brewery, GI Juice and Java, Karamoor Estate Wines, Laurie's Chocolates, The Market at Del Val College, Mike's Guac, M & E Edibles & Cake Dezigns, Nina's Waffles, Noble Sweets, Noord Bread, Nourish by Mama, Nutty Novelties, Olive Oil Etc., One Sweet Baking Company, Simply Fresh by McCaffrey's, Sole Kombucha, Sweet Victory Gluten and Dairy Free Treats, Wrightstown Farmers Market and Wycombe Vineyards.
Superior Woodcraft is committed to keeping the local economy strong by hosting the Bucks Locavore event each year. Patrick Kennedy of Superior Woodcraft says, "This grassroots event is an amazing display of how members of the local community can support one another, strengthen our local economy and improve our community. It is truly a unique event that you must experience."
The Bucks Locavore ~ Buy Local event offers awareness to the community of what's available to them in their own backyard. The success of a local commerce is critical for a stronger local economy, which supports schools, local infrastructures and public assets. What makes this three-hour event so unique is that it's a micro business incubator which proves to be more than a networking event for the attendees. The Bucks Locavore ~ Buy Local event provides a rare opportunity for businesses to connect with each other, form new alliances and even create new businesses.
About Superior Woodcraft, Inc.
Superior Woodcraft, in Doylestown, PA, designs and handcrafts heirloom-quality cabinetry for the whole home with sustainable methods and materials, providing beauty, utility and peace of mind. Family owned and operated since 1967. http://www.superiorwoodcraft.com
For more information or to RSVP, visit us on Facebook- Bucks Locavore
https://www.facebook.com/events/810718826034076/