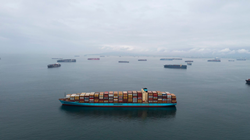 BURLINGAME, Calif. (PRWEB) November 04, 2021
It seems like there is no end to chaos and unexpected problems lately. It is certainly perplexing why massive container ships sitting off America's coasts can't get unloaded and why products can't be trucked as they have been, like clockwork, for over 5 decades or more?
But, as always, America's distribution channels, as well as dependable industrial plants and manufacturers find a way to keep the flow of essential items to our fellow citizens going strong.
With some careful and wise advanced inventory planning, SuperKlean has done its part. SuperKlean's hot water washdown product inventory is normally kept fully stocked in two North American warehouses. This past strategy held at least six months of inventory on almost every Industrial Hot Water Washdown part that the company designs and manufactures. The inventory cost burden had added to the company's overhead for years. In conjunction with exceptional products and service, this has paid off with a happy and loyal distribution channel, and thankful plant and factory managers.
In 2020, in the midst of the pandemic, SuperKlean had the foresight to dramatically increase inventory at the same time industrial factories and plants were in successive phases of the shutdown. SuperKlean strategically went from a normal 6-month reserve inventory stock to much higher inventory levels. That wise and tactical pre-planning has now given the company, the capability to continuously ship virtually every SuperKlean product and part number … Same Day or Next Day! If you are experiencing delays with other washdown manufacturers or suppliers, please contact a SuperKlean representative for the exact crossover hot water sanitation washdown SKU that will be equivalent and probably better than competitive products.
Here is a short list: SuperKlean's extensive inventory includes their renowned and award-winning Hot Water Mixing Valves and Hose Stations, featuring a wide assortment of DuraMix 8000 Steam & Cold Water Mixers and the 3600 Series Hot and Cold Water Mixers.
SuperKlean also provides 'same-day-shipping' of the company's vast line of industrial spray nozzles and heavy duty water guns that fulfill every industrial factory and plant need. These heavy duty hose nozzles and high-temperature hot water nozzles are used and trusted by some of the world's largest food, beverage, and pharma companies. SuperKlean's superior washdown hose products have been shipping the same or the next day for over 25 years, and feature SuperKlean's industry leading hose swivel adapters and hose swivel fittings. These adapter products incorporate the world's sturdiest O-ring construction and are designed with extra length, enabling double-banding of the hose which is a must for maximum, industrial hot water hose safety characteristics. SuperKlean only manufactures and sells premium hot water hose products.
If a customer has low quantity or high quantity needs for best-in-class industrial sanitation products, now or in the future, please give SuperKlean a call with your requirements. SuperKlean's dedicated Premier Service Team is ready to assist customers in all hot water washdown needs today and in the future!
For more information on SuperKlean's full line of hot water sanitation products, please visit http://www.superklean.com. Or, for immediate technical assistance on what specific products might be best for your application, please contact Dana Rudy, SuperKlean's Sales Manager, directly at 949-576-5679, or any member of our team at 1-800-769-9173.