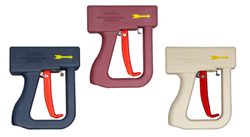 BURLINGAME, Calif. (PRWEB) October 27, 2020
SuperKlean Washdown Products has been a leading supplier of plant and factory sanitation equipment for over 30 years. Their most extensive product line, industrial spray nozzles, has various shapes and sizes of heavy duty hose nozzles for every application. These heavy duty hose nozzles are manufactured with a special rugged design, mandatory for extensive factory and plant use. Industrial water guns are often used to spray hot water at high pressure during multiple shifts each day to meet industrial sanitation standards. SuperKlean industrial spray nozzles can be found in the production plants and factories of the most renowned food companies worldwide, including Nestle, ConAgra, Frito-Lay, Exxon, Campbell's, Del Monte, Coco-Cola, Kraft, Pepsi, Kroger, Hershey, Foster Farms, Heinz, Pfizer, and dozens of other famous companies.
SuperKlean's DuraFlow nozzle is the top of the line, full feature industrial hot water gun favored in steam applications. The DuraFlow nozzle's safety-first design features SuperKlean's specially designed cover material and ergonomic front trigger-guard that keeps employees safer during operation and protects against accidental spraying if the nozzle is dropped. DuraFlow nozzles also provide drip-free automatic shutoff capabilities and includes a 4 position trigger-locking mechanism allowing for variable spray patterns, ranging from fan to solid streaming. This hot water gun is available in 3 colors and features heavy duty stainless steel construction.
SuperKlean also offers a line of quick attachments with extended capabilities that can be easily used with the DuraFlow nozzle. SuperKlean quick connect nozzle wands come in 1.5' and 3' extensions for hard-to-reach places. SuperKlean also offers flow restrictor attachments for low water flow applications. Unlike competitors who require separate nozzles for high flow and low flow applications, SuperKlean's flow restrictor adapter can be quickly attached to any SuperKlean industrial water gun to easily achieve lower water flow.
ABOUT US
SuperKlean is a well-known and trusted supplier to Fortune 1000 companies and strives for continuous improvement of their full line of industrial and commercial washdown products, ensuring their heavy duty water guns, adapters, and other washdown products are equipped for long-lasting functionality in environments that demand continuous operation and trusted performance. Please visit http://www.superklean.com to find the industrial spray nozzle that is right for you or give SuperKlean a call directly at 650-375-7001 to learn more.
###