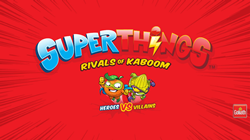 SuperThings: Rivals of Kaboom have landed on Amazon and made their grand debut at the Chicago Toy and Game Fair last weekend.
PLANO, Texas (PRWEB) November 26, 2019
SuperThings: Rivals of Kaboom are now available on Amazon and will make a huge boom in North America.
Goliath is ecstatic to bring this brand to the American market. Magic Box Int Toys found proven success in Europe, where the brand is known as SuperZings, the top-selling boys collectible in Spain and the fastest growing boys collectible in the UK.
There's a whole world with over 80 unique characters to collect, blind bags, Supercars, Kaboom Traps, Hideouts and more included in Series 1.
SuperThings are everyday items transformed into superheroes and supervillains. A natural rivalry can be found within each duo, such as a shoe vs. a banana or yarn vs. scissors.
SuperThings are battling for control of Kaboom City, a metropolis where these superheroes and supervillains come face to face. A mysterious foe has been wreaking havoc on Kaboom City – is this character a hero or a villain?
The story of SuperThings is explained in a series of animated YouTube shorts and comics coming early 2020.
SuperThings made their grand debut at the Chicago Toy and Game Fair (ChiTAG) on November 23-24 with first to market samples and purchasing options. They will be coming to brick and mortar stores early 2020.
Press and media samples are available upon request. For more information, please visit http://www.SuperThings.com.
About Goliath
Goliath was founded in 1980 by Adi Golad and he cofounded the Goliath's USA division with David Norman in 2008. Goliath is one of the few remaining family-owned global toy and game companies. Goliath is now a global manufacturer and distributor of a broad range of products. Examples include Wahu®, Rocket Fishing Rod®, Rummikub®, Rubik's Cube®, Tri-Ominos®, Sequence®, Pop the Pig®, Doggie Doo™, Gator Golf®, Let's Go Fishin® and Phlat Ball® .
The company has continued to see substantial growth with the acquisitions of Pressman Toy® and JAX® in the US, Crown & Andrews® and Britz 'n Pieces/Wahu in Australia, Modelco® in France, Elephanta® in New Zealand, and Vivid® in the UK. Goliath is a market leader in TV-promoted games and is active in many other toy categories, such as puzzles, arts & crafts, outdoor, activity, and novelties. Goliath products now sell in more than 75 countries worldwide and the company has offices in the Netherlands, Belgium, France, Spain, Portugal, Germany, Poland, Hong Kong, Italy, The United Kingdom, Australia, New Zealand, USA and Canada. For more information, please visit http://www.goliathgames.com.
About MagicBox
David Bella Martorell founded Magic Box Int Toys S.L.U. in 1993 and was the first company to launch caps in Europe, Mad Caps in 1994. Their next big hit was the next year with Gogo's Crazy Bones. SUPERZINGS has launched in Europe and will launch in the US during the fourth quarter of 2019. Other popular properties include Bungees, Crazy Stoppers, Shoot Out, Star Monsters, Zomlings and MojiPops.