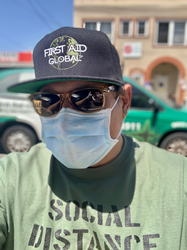 Think about the safety of your loved ones and those Americans who have compromising health problems as you visit restaurants and other businesses that are now opening
TARZANA, Calif. (PRWEB) May 21, 2020
In today's news cycle we often hear things that only lead to confusion. Whether or not to wear masks; to touch or shake hands with others; to avoid restaurants, movie theaters, concerts, sporting events or schools; or to lock yourself away in your home and get comfortable with your Netflix, AppleTV+, YoutubeTV or Prime Video subscriptions. But as things begin to return to normal Americans will still feel the effects of continuing transmission and bad news during this current health crisis.
"The best advice we can give is for people to stay vigilant, especially when it comes to making yourself vulnerable to disease transmission," says Todd West, co-owner of First Aid Global LLC in Tarzana, CA. His company, 'First Aid Global' supplies Personal Protective Equipment and has been warning of supply shortages for years. "The best time to prepare is obviously before a particular disaster and not when everybody else is buying or hoarding and depleting supplies. We look forward to putting current times behind us so that we can all go back to normal production."
"Stay safe our there," West says. "Think about the safety of your loved ones and those Americans who have compromising health problems as you visit restaurants and other businesses that are now opening."