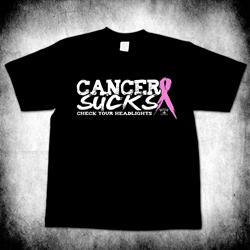 SPRINGFIELD, N.J. (PRWEB) October 01, 2018
One in eight women will be diagnosed with breast cancer in her lifetime. Rider Insurance is once again running its "Check Your Headlights" campaign to help awareness.Throughout the entire month of October, Rider will have "Check Your Headlights" t-shirts and magnets available for purchase on the company website, http://www.rider.com, Facebook page, http://www.facebook.com/RiderInsuranceCo and http://www.riderinsurance.storenvy.com. Monetary contributions are also being accepted. All net proceeds from the sales of the shirts and magnets ($5 per shirt, $1 per magnet) and monetary contributions made through the sites will be donated to The Breast Cancer Research Foundation in an effort to fund research for a cure. Additionally, The Rider Insurance Bleiwise Family Foundation will donate $1 for every new page "Like" received on the Rider Insurance Facebook page up to $2000 and match all net proceeds to from the t-shirt and magnets sales and monetary contributions through the above sites. Participants who purchase shirts or magnets can post pictures via Instagram, Tumblr or Twitter using the #RiderBCAM tag. The Rider Insurance Bleiwise Family Foundation will match all net proceeds. Join the fight against breast cancer and don't forget to Check Your Headlights!
Founded in 1971 by motorcycle enthusiast Harry Bleiwise, and built on his dedication to riding, Rider is currently the largest motorcycle insurance provider in New Jersey, and the only carrier serving the motorcycle community exclusively. Rider has been expanding its operations and is now providing coverage to riders of Delaware, Indiana, Maryland, Michigan, Ohio, Pennsylvania, and Virginia.
For more information on Rider Insurance or to get a quick quote, call 800-595-6393 or visit http://www.rider.com. "Like" Rider Insurance on Facebook and follow us on Twitter for all the latest updates and announcements.