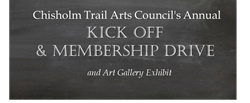 DUNCAN, Okla. (PRWEB) August 06, 2018
The Chisholm Trail Arts Council (CTAC) will be hosting their annual Kickoff and Membership Drive during their next Art Gallery reception on August 11th. The art gallery will feature a wide variety of artists from the surrounding areas. This is a come and go event from 5:30 pm – 7:30 pm, those attending must be at least 21 years to attend.
In addition to the Art Gallery reception, CTAC is kicking off their annual membership drive for the upcoming season. Thank you to everyone who has provided support to CTAC throughout the years – your generosity is greatly appreciated. Friends of the Arts have the opportunity to support CTAC by becoming a member or renew their membership during this time. Memberships are extremely important to CTAC's sustainability and keeping their programs available throughout the year.
CTAC offers five main programs to Duncan and their surrounding communities: CTAC Live Concert Series, Art Gallery & Guild, Arts Explosion, Art Education in Schools, and ArtWalk Duncan. Every community deserves to have great art which is the goal of CTAC to provide. Whether it is by attending a live performance, appreciating art created by others, introducing art to children of all ages, providing opportunities to area schools, and promoting and selling art in a park setting, art creates a healthy foundation for everyone.
These programs would not be possible without the help of others - like You. As a nonprofit, the "community" is what keeps our programs evolving. Membership fees, financial/ business supporters, grantors, AND volunteers help make all of this happen.
To learn more about Chisholm Trail Arts Council and their programs, check out their website http://www.chisholmtrailarts.com or call 580-252-4160.