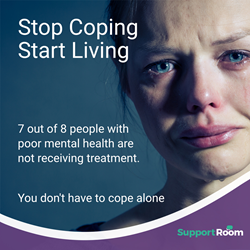 SupportRoom makes mental health support accessible, affordable, and provide ongoing support for patients.
LONDON (PRWEB) January 15, 2021
According to MIND, in the UK:
1 in 4 of us has a severe mental health condition
1 in 6 experience anxiety or depression
1 in 5 has suicidal thoughts
1 in 14 commit self-harm
1 in 15 attempt suicide
And only 1 in 8 adults with a mental health problem receives treatment.
Suicide is a single biggest killer of men below the age of 45 and takes almost 6,000 lives in the UK each year.
"People are suffering needlessly: living half-lives with mental health conditions when - often - all they need is to talk to someone who understands; without fear of judgement or ridicule. That's why I set up SupportRoom."
Ash Vipani - CEO
Why is SupportRoom needed?
Anyone who has tried to access mental health services in the UK is likely to have met a barrage of barriers. Starting with a GP appointment, a patient may be referred to a counsellor or a psychologist for assessment before any treatment begins.
But, it can take weeks to get an appointment; even longer to get treated. And then treatment is over before it started.
7 out of 8 people with severe mental health conditions are not receiving any treatment or support. And where there is treatment, medication is the typical solution.
SupportRoom believes that this is not good enough. Poor mental health illnesses are more common than physical health conditions, yet accessing treatment is a battle.
SupportRoom wants to change this, making mental health support accessible, affordable, and ongoing.
SupportRoom's therapy platform is designed to optimise access to essential, reactive, ongoing, and always-on therapeutic services using innovative web technology. Exclusive platform tools allow clients to track, manage, and reflect upon their wellbeing over time.
SupportRoom works 24/7, accessible by standard smartphones, tablets, and desktop computers.
Who is SupportRoom?
SupportRoom is the brainchild of founder, Ash Vipani. The suicide of a close family member brought the need for this service sharply into focus.
After years of experience in developing tech startups, Ash knew that it was possible to create an always-on platform, providing round-the-clock mental health support. So, he gathered together a team of mental health professionals and technology experts and set about creating SupportRoom.
How SupportRoom works
Poor mental health has no schedule, yet mental health provision - whether privately or through the NHS - works on an appointment-only basis. And average waiting time for an assessment appointment is between 4-8 weeks.
But what happens when a person suffering from anxiety is wide awake at 4 am; stressed, lonely, and desperate to talk to someone who understands?
SupportRoom offers a network of qualified therapists, ready to support a broad spectrum of mental health conditions and disorders; available 24/7, 365 days a year.
SupportRoom takes minutes to join, and can provide same-day treatment, support, and reassurance, over instant text- and voice messaging, and face-to-face video consultations—all within a single application.
Mental health issues aren't solved with medication or a single therapy session. SupportRoom believes that therapy is a journey and requires immediate and ongoing support.
SupportRoom is ready to go
SupportRoom pairs individuals with appropriate, experienced therapists in minutes - offering immediate, always-on, and ongoing support; not in two months when an appointment becomes available.
The innovative, tried-and-tested platform is ready and waiting to address the growing epidemic of poor mental health.
How SupportRoom works for the client
Prospective patients can sign up and complete a short questionnaire that pairs them with a suitable therapist. Then, they get free, immediate support.
Subscription costs are super-affordable, with tariffs to suit every pocket.
SupportRoom also offers ongoing support for organisations through their Employee Assistance Programme, helping maximise productivity by looking after workforce wellbeing.
For more information, check out SupportRoom.com or email them at info@supportroom.com.