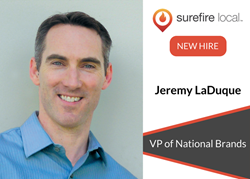 The hire comes at a very opportune time for our company...I am very excited about the expertise that Jeremy brings to the team & our new local digital marketing cloud platform, said Surefire Local Chris Marentis, CEO & founder.
Tysons, VA (PRWEB) May 23, 2017
Surefire Local, the leading marketing technology platform for brands and their local affiliates, has announced the hiring of Jeremy LaDuque as its new Vice President of National Brands. LaDuque brings considerable experience in national-to-local digital marketing for franchises, dealer networks and multi-unit organizations.
LaDuque's experience with franchises including The UPS Store, Sport Clips, Dwyer Group and Snap Fitness, as well as distributed networks such as Luxottica and West Corporation, puts Surefire Local in a strong position as it moves further into the franchise and dealer network arenas. LaDuque has been involved at the executive level of five companies that focus on digital marketing software and solutions, including SaaS platforms. His 20+ years of expertise in digital marketing and new business development for enterprise and mid-market businesses make him an ideal addition to the Surefire executive team.
"I'm excited to join Surefire Local and bring my background and experience in multi-unit digital marketing," said LaDuque. "Today's brands are looking for a true partner that can deliver on what they promise, and that truly cares about providing best practices at the corporate and local levels. I haven't met a company more capable of doing this than Surefire."
"I am very excited about the expertise that Jeremy brings to the team and how it helps us advise top CMOs and VPs of Marketing on our local digital marketing cloud platform," said Chris Marentis, CEO and founder of Surefire Local. "The hire comes at a very opportune time for our company as it follows an exceptional year. We rebranded and also acquired Atlanta-based Promio to advance our franchise marketing technology push, aided by the launch of the Surefire Local Marketing Cloud just a few weeks ago."
About Surefire Local
Established in 2009, Surefire Local provides simple, accessible and cost-effective new customer acquisition products and services to help business owners reach their local customers more effectively. It has emerged as a top local marketing technology company and a top Google Premier Partner for home improvement businesses, medical practices and franchise owners. Large manufacturers like GAF, Renewal by Andersen, Wellborn Cabinets and Louisiana-Pacific also partner with Surefire Local to provide preferred local digital marketing services to their dealer and distributor networks. Surefire Local has been included on the Inc. 5000 List of America's Fastest Growing Companies for three years in a row.