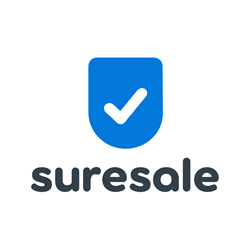 SureSale's proprietary platform seamlessly integrates with dealer platforms to make it easy for auto dealers to amplify that their vehicles have undergone an inspection, road test and history check
SANTA MONICA, Calif. (PRWEB) February 08, 2021
SureSale, which helps auto dealers provide car buyers verification of vehicle quality and condition, has expanded its digital merchandising options to help auto dealers capitalize on their digital retail efforts and reach more used vehicle buyers online. Because SureSale's digital merchandising enables used vehicle inventory to stand out in crowded marketplaces, auto dealers are reporting increased vehicle detail page (VDP) views and customers.
"SureSale's proprietary platform seamlessly integrates with dealer platforms to make it easy for auto dealers to amplify that their vehicles have undergone an inspection, road test and history check," said Sean Peoples, VP of Sales at SureSale. "The trust and digital engagement this creates is increasing vehicle detail page (VDP) views and buyer consideration for auto dealers, all of which leads to increased used vehicle sales."
In a recent three-month analysis based on results from multiple auto dealerships, vehicles with a SureSale report experienced a 20% increase in VDP views and leads on third-party marketplaces. Data was determined by comparing vehicles with a SureSale vehicle quality report to a control group on some of the most trafficked auto marketplaces, including CarGurus and Autotrader.
"The SureSale vehicle quality report stands alone in the industry for the depth of information it provides on each vehicle. Unlike other reports that just list vehicle history, SureSale includes the vehicle's past and present condition, fueling consumer confidence and generating a more informed, efficient and valuable transaction for auto dealers," continued Peoples.
Empowering auto dealerships with digital tools that facilitate a more contactless transaction, and that boost vehicle visibility, has never been more important as the pandemic has increased the number of car shoppers going online. Meanwhile, the importance of vehicle ownership has heightened as people avoid mass transportation and ride-sharing. This is driving a new wave of car buyers into the market, many of whom are turning to the affordability of pre-owned vehicles in the face of rising new vehicle prices. All of this adds up to increased competition – and opportunity – in the used vehicle market.
By integrating with auto dealer's inventory feeds and image management systems, SureSale lets its mobile app users instantly validate vehicle quality and condition. SureSale's proprietary platform analyzes thousands of data points including those from the 170-point inspection and road test, as well as a history check, to generate a SureSale vehicle quality report for each vehicle. SureSale's enhanced digital merchandising then kicks in, digitally badging each vehicle and merchandising listings across third-party marketplaces. This merchandising, which is completely turn-key for the dealership, increases engagement on vehicle listings, helping dealers to sell more vehicles while building trust and providing peace of mind.
SureSale is an exhibitor at the 2021 NADA Virtual Expo, click here for more information.
SureSale announced last week that it is powering AAA Inspected, a new program that helps AAA members and non-members buy quality used cars with confidence. Click here for more information.
About SureSale
SureSale offers used vehicle buyers peace of mind with the SureSale vehicle quality report, which stands alone in the industry for the depth of information it includes on the vehicle's past and present condition. Delivered through the industry's first, and only, vehicle quality SaaS platform, SureSale enables franchise and independent dealers to validate, and merchandise, the quality of their used vehicle inventory. SureSale, which won the 2020 Gold Stevie® Award for "Innovation of the Year," was founded to help the auto market meet the demand for inspected, high-quality pre-owned vehicles among the US' 40 million used car buyers. SureSale is based in Santa Monica, CA. Visit SureSale.com for more information.
SureSale Media Contact:
Angela Jacobson, mWEBB Communications, angela@mwebbcom.com, (714) 454-8776
Melanie Webber, mWEBB Communications, melanie@mwebbcom.com, (949) 307-1723