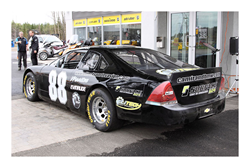 Vancouver, BC (PRWEB) August 08, 2014
White Motorsports' record holding driver Marc-Antione Camirand's race car will now sport the Surface 604 brand logo, and fans of everything that goes faster will be able to get their hands on the new Element 2.0 electric fat bike at upcoming NASCAR races.
Spokesman for Surface 604, John Dem, says, "We are very pleased to announce this collaboration with a championship team which shares many of our values." Both companies are known as being leaders in their given sports arenas. White Motorsports' vision begins where most others' ends – in finishing races. When not on the track, the NASCAR team can be found out supporting the local communities they are visiting, and strive to give back as much as they can. White Motorsports is also the only team on the NCATS roster to build their own race cars from scratch, in-house.
Quebec native driver Marc-Antione Camirand found racing in his blood from a very young age. Among his accomplishments behind the wheel include the Formula 100 Championship, winning the Quebec Sur Glace Championship, wins at the American Le Mans Series, competing in Daytona, and holding the record for the most wins at the Circuit de Trois-Rivieres.
Innovative fat bike manufacturer Surface 604 has designed a lineup of environmentally friendly electric powered bikes that enable riders to conquer all terrains and look great doing it.
Surface 604 has received much acclaim in the media after launching this new series of all-terrain electric fat bikes. With lithium battery power on-demand, riders of Surface 604's new Element 2.0 can maintain speeds of up to 20 mph for 20 miles, making them the fastest bicycles on the road, snow or sand.
Fans can get up close and personal with Surface 604 fat tired bikes as White Motorsports goes for the NASCAR Canadian Tire Series Trophy. Element bikes will be making appearances at upcoming NCATS race dates including:
— June 14th Canadian Tie Motorsport Park
— June 16th Autodrome Chaudiere
— July 11th Circuit ICAR
— July 16th Edmonton International Speedway
— July 26th Auto Clearing Motor Speedway
— August 10th Circuit de Trois-Rivieres
— August 16th Riverside International Speedway
— August 31st Canadian Tire Motorsport Park
— September 6th Barrie Speedway
— September 20th Kawartha Speedway
Find out more about these two Canadian power teams at https://www.surface604.com.