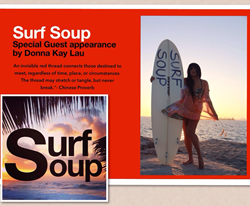 "Red String of Fate." The Chinese believe that, "An invisible red thread connects those destined to meet, regardless of time, place, or circumstances. The thread may stretch or tangle, but never break." –Chinese Proverb
Los Angeles, CA (PRWEB) April 23, 2014
Animator-Artist Donna Kay Lau launched the "Surf Soup" Project on Kickstarter, a crowd fund-raising website for creative projects. Lau's "Surf Soup" project premiered at the "dA Center for the Arts," in Pomona, California, at the Arts Colony.
The "Honu" (Hawaiian for Turtle) painting and book are based on the theme, "Red String of Fate." The Chinese believe that, "An invisible red thread connects those destined to meet, regardless of time, place, or circumstances. The thread may stretch or tangle, but never break." –Chinese Proverb.
Lau's book "Surf Soup" teaches children how to surf and provides character building lessons while learning how to surf. It also focuses on ocean conservation. It is the first book in a series of specially themed subjects that addresses topics that are important for our children to understand. Proceeds from the projects will be donated to ocean rehabilitation and various charities.
"I want kids to feel the way I did when I was a youngster reading picture books," Lau said. "Whether it is with a parent, grandparent or teacher or just by me, the anticipation of turning pages filled with wonderful illustrations helped stimulate my imagination and creativity."
Lau will appear at the Hibbleton Gallery at the Magowski Arts Colony, 223/225 W. Santa Fe Avenue in Fullerton, will feature the artwork of artist and author Donna Kay Lau at the May 2 Fullerton Art Walk. Lau's painting "Honu"(Hawaiian for turtle) is the first installation in her "Surf Soup" project that she is funding through a Kickstarter campaign.
Also appearing with Lau will be "Miss Mary Ann" King who thrilled preschoolers from 1966 to 1976 as host of Romper Room on KCOP-TV. King wrote the Forward to the "Surf Soup" book.
"I am delighted to support Donna in her launch of the "Surf Soup" project," King said. "I believe it's a great cause and a wonderful project for charities."
Lau, who was recently honored with a Prime-Time Emmy for contributions to the animated series "Regular Show," has worked on several series for Nickelodeon and Cartoon Network including "Dora the Explorer," "CatDog," "Oswald the Octopus," "Generator Rex." She has free-lanced on many productions including the PBS series "Danger Rangers." She is also the designer of her own children's' clothing line "Art is On!" and "Surf Soup" Surf Couture (a unique bikini and clothing line).
For more information on Lau and her Kickstarter campaign http://kck.st/1cTqywp or click on http://SurfSoup.TV.