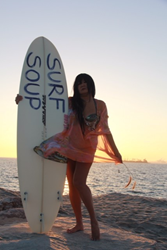 'Red String of Fate.' The Chinese believe that, 'An invisible red thread connects those destined to meet, regardless of time, place, or circumstances. The thread may stretch or tangle, but never break.' – Chinese Proverb.
Los Angeles, California (PRWEB) June 10, 2014
Animator-artist Donna Kay Lau successfully funded the "Surf Soup" project on Kickstarter, a crowd fundraising website for creative projects. Lau's "Surf Soup" project funded beyond the original goal, achieving 116% funding. Lau also received generous Dogecoin and Bitcoin donations.
The Surf Soup Project first premiered at the "dA Center for the Arts" in Pomona, California, at the Arts Colony, and Lau also appeared at the Hibbleton Gallery at the Magowski Arts Colony, at the Art Walk in Fullerton, which featured the artwork of artist and author Donna Kay Lau.
Lau's painting "Honu" (Hawaiian for turtle) is the first installation in her "Surf Soup" project that she funded through a Kickstarter campaign. Lau will appear with "Honu" at First Annual Hsi Lai Temple Music and Arts Festival which marks the temple's 25th anniversary. The free family event is Saturday, June 21, from 4 to 8:30 p.m., located at 3456 Glenmark Drive in Hacienda Heights.
This will be the third Art Show appearance this year for the "Surf Soup" project, with this being the first outdoor Music and Art Festival. Lau is calling this the "Honu Tour."
"This has been such an exciting journey and Honu is swimming slowly and leading the way for Surf Soup! Honu is like a rock star on tour," said Lau.
Also appearing with Lau will be "Miss Mary Ann" King who thrilled preschoolers from 1966 to 1976 as host of Romper Room on KCOP-TV. King wrote the "forward" to the "Surf Soup" book. Lau and "Miss Mary Ann" will be signing autographs.
"I am delighted to support Donna in her launch of the 'Surf Soup' project," King said. "I believe it's a great cause and a wonderful project for charities."
Featured at the festival will be artists and artisans, and live bands such as Indie folk and atmospheric alternative to Chinese drum troupe and zither music, a diverse lineup of Los Angeles area musicians, along with vegetarian food booths, book sales, face painting and more. More information is on the festival's Facebook page, http://facebook.com/hltmusicandarts.
Lau has also designed a special mermaid costume that will be featured in a photo shoot, and Lau will be modeling and displaying the mermaid costume at the festival, made from Hawai'i. This is designed after a character in the Surf Soup book that teaches Upcycling. Upcycling is the process of converting waste materials or useless products into new materials or products of better quality or for better environmental value.
Lau is currently arranging appearances with the local Aquariums to appear, and teach Upcycling, and art activities, and plans to wear the mermaid costume for book appearances and book signings.
The "Honu" (Hawaiian for Turtle) painting and book are based on the theme,"Red String of Fate." The Chinese believe that, "an invisible red thread connects those destined to meet, regardless of time, place, or circumstances. The thread may stretch or tangle, but never break (from a Chinese Proverb)."
"This is so special and it is true serendipity that my "Surf Soup" project has now found its way to the Hsi Lai Temple Music and Arts Festival, because my "Honu" story is about love and compassion," says Lau.
Lau's book "Surf Soup" teaches children how to surf and provides character building lessons while learning how to surf. It also focuses on ocean conservation. It is the first book, in a series of specially themed subjects that addresses topics that are important for children to understand. Proceeds from the projects will be donated to ocean rehabilitation and various charities.
On June 8th, in honor of "World Oceans Day," Lau's "Surf Soup" book will be available for pre-sale along with limited edition prints, infant onesies, stickers for cars and surfboards, t-shirts, bikinis, and also the original "Honu" painting on Surf Soup's newly launched Etsy Store, http://Surfsoup.Etsy.com, also available online at http://Surfsoup.TV where Dogecoin and Bitcoin will be accepted.
Lau, who was recently honored with a Prime-Time Emmy for contributions to the animated series "Regular Show," has worked on several series for Nickelodeon and Cartoon Network including "Dora the Explorer," "CatDog," "Oswald the Octopus," "Generator Rex." She has free-lanced on many productions including the PBS series "Danger Rangers." She is also the designer of her own children's' clothing line "Art is On!" and "Surf Soup" Surf Couture (a unique bikini and clothing line).
For more information on Lau and her successful Kickstarter campaign: http://kck.st/1cTqywp or click on http://SurfSoup.TV
About Donna Kay Lau
http://IMDb.me/DonnaKayLau
"Buddhism is the way to understand the heart," says Venerable Hui Dong, Abbot of Fo Guang Shan Hsi Lai Temple. "Music and art are also means that touch heart. By putting them together, the festival is in fact a journey to the deepest of one's heart."
About Hsi Lai Temple
Hsi Lai Temple, a traditional Chinese Buddhist mountain monastery in the foothills of Hacienda Heights, California, is one of the largest temples of its kind in North America. It is the first overseas branch and North American regional headquarters for one of Taiwan's largest Buddhist organizations, Fo Guang Shan. The Temple's founder, Venerable Master Hsing Yun, is recognized worldwide for his dedication to promoting Humanistic Buddhism, which incorporates all eight traditional schools of Chinese Buddhism to provide guidance deemed most useful to modern life. The Temple is committed to serving as a bridge between East and West so the Buddha's teachings of kindness, compassion, joyfulness, and equanimity might be integrated into people's lives for the benefit of all.