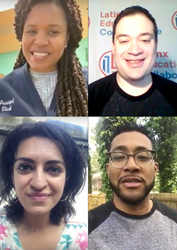 "Take a moment to give, no matter the amount. Take a moment to share with as many people as you can. And please take a moment to be in connection and community with those who need your love and support." - Surge Founder Carmita Semaan and Board President Darryl Cobb
CHICAGO (PRWEB) April 06, 2020
The Surge Institute, a national nonprofit organization that develops and connects emerging leaders of color in education, has launched a new fundraising campaign to support its fellows and alumni in their efforts to serve youth and communities impacted by the COVID-19 pandemic.
The organization launched the Surge Relief Fund on April 1, 2020, sharing the stories of several fellows and alumni who have had their work in youth service, teacher support, mentorship, and community resource distribution heavily stifled by the virus and shelter in place restrictions it has caused. 
Among the Surge Alumni impacted is Andrea Black, principal of Schmid Elementary on the South Side of Chicago. "Several of my families do not have access to things like a chromebook, a tablet, an iPad, so that they can connect virtually to their teachers," Black shared in a video message. "Your donation can allow that to happen."
Also affected is Randal Seriguchi, Jr., Executive Director of Urban Ed Academy, whose mission is to see at least one man of color teaching in every elementary school in San Francisco. "In the midst of a global pandemic, like other nonprofits, we're finding ourselves battling food insecurity and a digital divide," Seriguchi said. "We're dealing with the conversion to virtual classrooms, to virtual professional development opportunities . . . It's a scramble to make sure we continue to support those most vulnerable."
Through the new relief fund, Surge seeks to provide support to all of its fellows and alums who are directly serving communities heavily impacted by COVID-19, who are the most in need. 
 
The Surge Institute has established a webpage with more information about the campaign, including frequently asked questions and video testimonials from fellows and alumni. The fundraising effort will carry through the entire month, ending on April 30, 2020. Surge will distribute 100 percent of the funds to fellows and alumni on May 15, 2020.
In a heartfelt message from Surge Founder Carmita Semaan and Board President Darryl Cobb, the organization asked for donations and support. "Please be a trailblazer for this effort," Semaan and Cobb stated in the letter. "Take a moment to give, no matter the amount. Take a moment to share with as many people as you can. And please take a moment to be in connection and community with those who need your love and support."