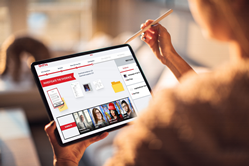 We are thrilled to add Red Flag Mania's unique approach to fraud education through gamification to our Surgent IQ professional development offering.
RADNOR, Pa. (PRWEB) April 27, 2021
Surgent, part of KnowFully Learning Group, today announced the launch of Red Flag Mania within its course portfolio for Surgent IQ, the company's online learning center that delivers upskilling and reskilling training for accounting and finance professionals. The launch consists of an innovative e-learning solution that combines film, theory and "whodunit" fun, empowering learners to use data to solve complex problems and gain new skills. Surgent IQ will offer Red Flag Mania as a stand-alone season, with 6-8 hours of content, as well as in a subscription model - which will include future seasons throughout the year, as well as mini games.
Watch a short intro video about Red Flag Mania.
Red Flag Mania, co-founded by Kelly Richmond Pope, Ph.D, CPA, and experiential marketing expert Roni Jackson, creates richly produced educational courses that incorporate real people and real stories, increasing engagement and leading to a higher level of retention. Studies show that gamification increases motivation and productivity by up to 87% and ultimately knowledge retention, allowing students and professionals to pick up information faster. Red Flag Mania courses encourage learners to search for clues that reveal "red flags" which may be overlooked without this kind of deep investigation and critical thinking.
"Red Flag Mania's unique approach to gamification and fraud detection is an innovative form of professional development that far supersedes options currently on the market," said Elizabeth Kolar, MBA, CPA, CGMA, Executive Vice President. "We're excited to see this partnership enable a broader reach of this knowledge, allowing students and professionals to fine tune their skills, while also providing a visibility boost to the two innovators who have successfully made tough topics such as fraud accessible and engaging."
Red Flag Mania's innovative curriculum complements KnowFully's approach to education, which focuses on personalizing the learning experience to each individual's needs to drive more efficient and meaningful learning outcomes. This approach is evident across Surgent's portfolio of solutions, which spans all stages of an accounting or finance professional's career, from Surgent Exam Review, which offers award-winning test prep courses for the CPA Exam, EA Exam, CMA Exam and others, to Surgent IQ, which delivers skill-building training for all career stage, and Surgent CPE, a provider of best-in-class continuing professional education (CPE) for CPAs and other tax and financial professionals.
"Our gamified learning experience is designed to encourage students and professionals alike to nurture their skills through storytelling and the immersive experiences that are crucial to application of the knowledge on a day-to-day basis," said Kelly Richmond Pope. "Our partnership with Surgent IQ is a fantastic opportunity to expand our reach to professionals looking for a fresh approach to learning.
About Surgent
Surgent, part of NexPhase Capital-backed KnowFully Learning Group, has a 35 year history of leadership in accounting, finance and tax education. For most of the company's history, Surgent has been known as a trusted provider of the Continuing Professional Education that CPAs need to maintain their professional credentials. More recently, Surgent has become one of the fastest-growing Exam Review course providers, offering adaptive learning-based courses that help students pass accounting and finance credentialing exams faster. Surgent IQ, launched in 2020, delivers on-demand skill-building courses that help students and professionals leverage targeted learning to further their careers. Learn more at http://www.surgent.com
About Red Flag Mania
Red Flag Mania is a game-based investigative experience that uses true crime stories to teach postsecondary learners concepts of active learning, critical thinking, problem-solving and ethical decision making in business and accounting courses. The company's simulation-based, immersive learning approach incorporates real people and real stories that result in positive learning outcomes. Learn more about Red Flag Mania at http://www.redflagmania.com