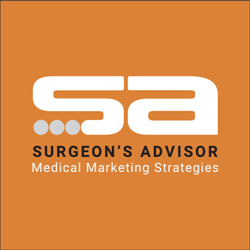 MIAMI BEACH, Fla. (PRWEB) August 27, 2019
Surgeon's Advisor, a Miami medical marketing firm specializing in the plastic surgery field, has recently opened up a new communication channel for clients and prospective clients on its website. The new website chat service allows clients to chat with a representative in real-time during business hours or to leave a message during off hours. This new communication option will help to facilitate speedy and attentive service for clients and help prospective clients understand the firm's offerings.
Surgeon's Advisor began offering this new service in an effort to help busy medical professionals get their marketing questions answered and allow them to quickly connect with the firm's experts. As Surgeon's Advisor only works in the medical space, they understand the unique marketing challenges facing plastic surgeons, dermatologists, and cosmetic dentists who want a beautiful website but need to spend less time on their promotional materials and more time on patient care and professional development.
The live chat feature will help to facilitate communication and provide a convenient channel for clients to get marketing help rapidly. As an industry-leading marketing firm, Surgeon's Advisor is committed to keeping up with marketing trends and best practices in plastic surgery by offering clients in-demand services like mobile optimization and the new live chat feature.
In business for over 17 years, Surgeon's Advisor offers a range of marketing and website services to the country's top medical practices. Their menu of services includes digital marketing, SEO, website content and design, social media, and reputation management. As a medical marketing firm, they ensure that clients' sites comply with all relevant regulations, which often include HIPAA, GDPR, and ADA requirements.
CEO Robert Baxter built Surgeon's Advisor on a foundation of transparency, performance, and of course, ROI. The company's goal is to create relationships with clients that are based on trust and help to drive the right kind of business to a physician's practice. Robert Baxter is an educator who has given over 100 talks at major industry events and enjoys teaching medical professionals about marketing and client acquisition.
Surgeon's Advisor's in-depth knowledge of the medical space and trends in marketing has resulted in the firm reaching industry-leading success in many different areas, including the most #1 ranked practices in their markets and the overall highest average client mobile speed. Both established surgeons and new talent see results from the comprehensive marketing plans Surgeon's Advisor offers.
New clients can get a free website evaluation and ask questions via chat, email, or phone. To learn more about Surgeon's Advisor and the services they offer,visit their website and chat with a representative or call 305.676.0688.