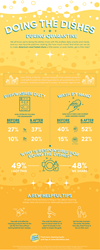 AUSTIN, Texas (PRWEB) May 04, 2020
With Americans at home for weeks on end, it's no secret that dishes have been piling up. It's not just the dishes from the endless meals and snacks, but also all those extra pots, pans and bowls from the nation's new favorite pastime—baking.
We all know we're doing the dishes more, but how much more? And what can we do to make one of our most hated chores a little easier, or even better, get a little help?
Lemi Shine, a family-owned company that creates powerful and safe household cleaning products, each powered by citric extracts, just conducted a survey* of women ages 25-45 with the results confirming that we are indeed spending more time doing dishes during quarantine:

Number of households running the dishwasher at least 2 times a day doubled to just over 20%.
Number of respondents who spend more than 30 minutes a day hand washing dishes rose from 40% to 52%, with 22% spending at least an hour a day at the sink
Almost all women surveyed think they're at least partially responsible for doing the dishes—with almost half (48.77%) seeing it as 100% on their plate
*Lemi Shine Cleaning During Quarantine Survey of 1,056 American female respondents between the ages of 25 and 45 was conducted between April 21, 2020 and April 22, 2020. The data for this survey was collected using SurveyMonkey Audience. Information on how respondents are recruited to SurveyMonkey is available here: http://www.surveymonkey.com/mp/audience