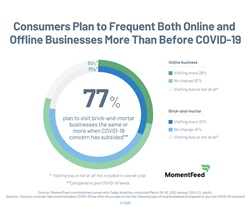 "Brick-and-mortar businesses should prepare for a slow transition back to the 'new normal,' using every tool available to them to listen to their customers and anticipate what services and products they need and want."
SANTA MONICA, Calif. (PRWEB) April 22, 2020
MomentFeed, the leading provider of Proximity Search Optimization, today released data from a new survey – "Impact of COVID-19 on National, Brick-And-Mortar Brands." The latest round of results shed light on a question that is on the minds of many business leaders: "Once concern around COVID-19 subsides, will consumers return to brick-and-mortar businesses, or will new online behaviors turn into lasting preferences?"
While the survey results indicate a clear consumer shift online during COVID-19, consumers do plan to go back to brick-and-mortar businesses coming out of this crisis. In fact, 91% of consumers report they will return to restaurants, movie theaters, gyms, salons, stores, and banks, with 32% saying they will visit these businesses more than before COVID-19. However, the survey also suggests that some online behaviors could last, with 28% of consumers planning to visit online business more than before COVID-19.
"Such an extraordinary event that has dramatically altered our daily routines will undoubtedly leave its mark; while normalcy will return, it will be different," said Nick Hedges, CEO of MomentFeed. "Brick-and-mortar businesses should prepare for a slow transition back to the 'new normal,' using every tool available to them to listen to their customers and anticipate what services and products they need and want."
SURVEY FINDINGS:
Consumers Limit Visits to "Essential" Brick-and-Mortar Businesses Amid COVID-19

Consumer preferences are shifting online during COVID-19, with 82% of consumers visiting online businesses and 34% visiting more than before the crisis.
In contrast, only 45% of consumers are visiting brick-and-mortar businesses and 26% are visiting less than before the crisis.
Grocery stores are seeing the most traffic during COVID-19, with 82% of consumers still frequenting businesses in this category. The majority of survey respondents, 55%, are limiting their grocery store visits.
Sixty-six percent of consumers report visiting convenience stores during this time and 62% said they visit banks.
Half of all survey respondents report they are still visiting quick-serve restaurants, while only 35% said they are visiting dine-in restaurants.
U.S. adults have overwhelmingly moved to cooking for themselves, with the portion of prepare-at-home meals increasing from 60% to 78% during COVID-19, a 30% increase relative to pre-COVID-19 levels.
Dine-out has dropped by two-thirds — from 21% to 7% — while takeout/delivery meals fell from 19% to 15%, a 21% decrease relative to pre-COVID-19 levels.
Consumers Eager to Return to Pre-COVID-19 Routines Once Concern Subsides
All is not lost for brick-and-mortar businesses; 91% of consumers indicate they will visit restaurants, movie theaters, gyms, salons, stores, and banks, once concerns about contracting the disease subside, and 32% indicate they will visit more frequently than before COVID-19.
Dine-in restaurants will likely see a quick resurgence of traffic, with 39% of respondents saying they plan to visit restaurants more than before COVID-19.
Grocery stores will also see a resurgence, with 35% of respondents reporting they will visit more frequently than before COVID-19.
Entertainment (theaters, arcades, etc.) and retailers should also see strong support, with one-third of respondents indicating they will visit more than before pre-COVID-19.
Gyms on the other hand, might see fewer unique visitors than before COVID-19, but survey respondents were more likely to say they will visit "more often than ever before" when compared to other industries.
ABOUT THE DATA
To better understand consumer buying behavior amid COVID-19, MomentFeed commissioned a survey with Zogby Analytics. The survey was conducted March 25-26, 2020 among 1,010 U.S. adults ages 18 and older. The survey respondents were equitably located throughout the country and represented a diverse sample of ages, genders, ethnicities, education levels, income levels, and number of children.
ABOUT MOMENTFEED
MomentFeed is the leading Proximity Search Optimization platform trusted by many of the largest multi-location brands in the restaurant, retail, automotive, hospitality, and financial services industries. Proximity Search Optimization is gaining significant interest from CMOs of multi-location, national brands and franchises as a way to show up locally, at the precise moment a customer has a need. MomentFeed makes it possible for national brands to execute hyperlocal marketing campaigns at scale – driving local awareness, in-store traffic, and more calls for appointments and orders.
Founded in 2010, MomentFeed is headquartered in Santa Monica, California. An Inc 5000 Fastest Growing Privately Held Company, it was also named a Comparably Best Company.
For more information visit http://www.momentfeed.com | Twitter | LinkedIn | Facebook