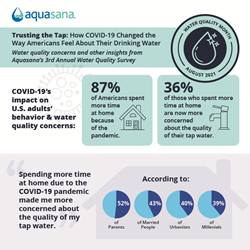 COVID-19 has caused Americans to become more concerned about their drinking water quality.
AUSTIN, Texas (PRWEB) August 04, 2021
Aquasana, a leading maker of high-performance water filtration solutions for the home, today announced the results of its third annual Water Quality Survey. In honor of National Water Quality Month, this year's survey sought to explore how the COVID-19 pandemic has affected the way Americans feel about the quality of their tap water, including top contaminants of concern and more.
Overall, the 2021 survey results revealed that spending more time at home the past year due to COVID-19 has caused Americans to become more concerned about their drinking water quality. Of the 2,143 U.S. adults polled, nearly three-quarters (73%) said they are at least somewhat concerned with the quality of unfiltered tap water in their homes. When questioned about behavior, 87% of Americans said they spent more time at home because of the pandemic, with 36% claiming it increased their concerns about tap water quality. There was also a significant rise (+26%) in the percentage of U.S. adults who named bacteria, cysts and viruses as their top water contaminant concern, more so than other harmful toxins such as lead, herbicides and pesticides. This is in comparison to pre-COVID-19 survey responses collected in February 2020.
"Our ultimate goal in conducting this annual survey is to spread awareness about water quality issues and help people find water treatment solutions they can trust," said Derek Mellencamp, General Manager of Aquasana. "It's clear the shock waves of COVID-19 have rippled across most, if not all, aspects of our lives. It was important for us to understand how the pandemic and sheltering in place changed how Americans view the tap water in their home and its potential impact on the health and wellness of their families."
When it comes to specific drinking water contaminants, U.S. adults cited lead as their number-one contaminant of concern (29%) for the second year in a row, followed by bacteria and cysts (24%), chlorine and chloramines (17%), pesticides and herbicides (12%), and fluoride (7%). Additionally, awareness of the "forever chemicals" PFOA / PFOS has consistently increased over the past three years and is nearly double what it was in 2019, up from 18% in 2019 to 33% in 2021.
Between generations, Millennials are 67% more likely to select PFOA/PFOS as their top water contaminant concern when compared to non-Millennials. With a 35% year-over-year increase, Gen X saw the largest growth in familiarity of PFOA/PFOS as it relates to drinking water. In general, Millennials are also the most likely age group to filter their drinking water at home (76%). By contrast, Gen Zers are 41% more likely to say they do not filter their drinking water at home because they buy bottled water instead.
Aquasana's third annual Water Quality Survey again found that parents are consistently more knowledgeable and aware of water quality issues overall than non-parents, including increased concerns due to the pandemic. In fact, parents are 96% more likely to be familiar with PFOA/PFOS and twice as likely to say sheltering at home during the pandemic increased their concerns about their tap water quality. Additionally, parents are 16% more likely to filter their drinking water at home and 164% more likely to use a whole house filter.
Awareness and concern over harmful contaminants in drinking water continues to rise across the country. Nearly three out of four U.S. adults (74%) filter their drinking water at home. However, the survey also uncovered a need for more consumer clarity between specific contaminants of concern and the filtration technologies most capable of reducing them. Although drip water filter pitchers are the most common type of filtration system used in the U.S. (40%) according to the survey, many pitcher filters are not certified to remove America's number-one water contaminant of concern, lead. Aquasana's patented Claryum® filtration technology is certified to remove up to 99% of lead and 76 other contaminants, including PFOA/PFOS, bacteria and viruses, pesticides and herbicides.
"Aquasana is committed to helping educate consumers on the importance of filtering their drinking water," added Mellencamp. "We've spent the last decade actively listening to the concerns of our customers through direct communication, and we'll continue to innovate to provide fast and easy access to clean, healthy water for all communities."
For the full list of survey results and more insights into how COVID-19 affected Americans' drinking water concerns and behavior, visit aquasana.com.
About Aquasana
Aquasana, an A. O. Smith Corporation company (NYSE-AOS), is dedicated to improving the overall health and wellness of every home by delivering clean, healthy and great-tasting water through its best-in-class water filtration systems. Aquasana's family of award-winning premium water filters – including whole-house filtration systems, shower filters, under sink and countertop filters, reverse osmosis systems and portable filter bottles – provide easy and immediate access to healthy water at home and on the go.