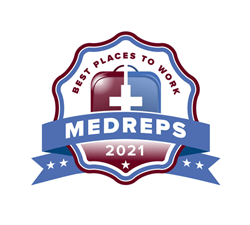 A record 95% of medical sales respondents say they're satisfied with their jobs. It seems for many, the difficulties presented by the pandemic made them even more appreciative of the stability and support offered by their employers. - Karyn Mullins, president at MedReps
ALPHARETTA, Ga. (PRWEB) December 01, 2020
A new survey by MedReps, a career site for medical sales representatives, revealed Syneos Health, Teleflex, and Acella & Avion Pharmaceuticals as the overall best medical sales companies to work for in 2021.
The 10th Annual Best Places to Work in Medical Sales survey polled over 2,000 professionals from the MedReps community to identify which medical sales companies are currently the most sought-after in the industry.
The survey results also identified the qualities and values most important to medical sales reps today, which led to them voting for their favorite company. For 2021, medical sales reps reported that they value work-life balance (80%), a focus on team building and collaboration (56%), and a commitment to diversity and inclusion (26%).
"In a year full of uncertainties, companies really stepped up to make their employees happy," said Karyn Mullins, president at MedReps. "A record 95% of medical sales respondents say they're satisfied with their jobs. It seems for many, the difficulties presented by the pandemic made them even more appreciative of the stability and support offered by their employers."
Syneos Health, who is on the list for the 2nd year in a row, recognizes motivated and engaged employees are the single biggest driver of their success. At the core of everything they do, the executive leadership fosters a culture focused on open communication, transparency, and active engagement of employees at all levels of the organization.
"Leading with honesty and integrity is the most important aspect of leading any successful organization and when done well, the engagement and productivity of the team is multiplied," shared Paul Mignon, leader of the deployment solutions team at Syneos.
Teleflex is a company that thrives on shared values, with people at the center of all they do. They have a leadership team comprised of highly talented and professional people who genuinely care about the employees at Teleflex.
"Our Teleflex leadership has shown their honesty and trustworthiness through constant and transparent communications with employees, instating an environment of positivity within and outside of the workplace," shared Mike Cummings, vice president of human resources, The Americas at Teleflex.
Similarly, Acella & Avion Pharmaceuticals really prioritize a healthy work-life balance for employees. Even amid this year's uncertainty, they focus on employees' healthy minds and bodies. They aim for employees to feel happy and content.
"Our company leaders make you feel like you are not alone during these crazy and scary times," one Acella & Avion employee said. "They gave us all the space, time, and resources we needed to do our jobs the best we could. We never felt at a loss during the height of the pandemic and, while it was challenging, we feel Acella & Avion did everything they conceivably could to allow us to continue working and make the best of a terrible situation."
Notable findings from the survey include:

32% of respondents said the best part about their job is the ability to make a difference/impact.
More than half of respondents' top characteristic for leadership is honesty and trustworthiness.
Only 15% of respondents said they are likely to leave their job in the next year.
When asked, "What is the best part of your job?" 21% of respondents said "opportunity for growth."
"Considering the high job satisfaction numbers, it's not surprising that few respondents said they are likely to leave their job in the next year," Mullins added. "Of course, the ongoing pandemic and economic uncertainty may also contribute to a general hesitancy to make a job change any time soon."
For more information about the study, click here.
###
*About MedReps*
MedReps is owned and operated by Healthcare Staffing Technologies. As the leading job site in its niche, MedReps gives members access to the most sought-after medical sales jobs and pharmaceutical sales jobs on the web. Members have access to over 6,000 jobs and can apply directly to the recruiters and hiring managers who post them. For more information on the No. 1 site for medical sales, marketing, and management careers, please visit MedReps.com.