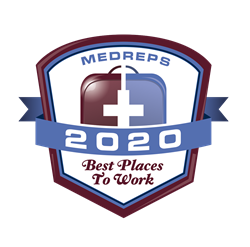 This year, we found medical sales employee satisfaction is at a record-breaking high. - Karyn Mullins, president at MedReps.
ALPHARETTA, Ga. (PRWEB) December 03, 2019
A new survey by MedReps (http://www.medreps.com), a career site for medical sales representatives, revealed Syneos Health, Teleflex, and CONMED as the overall best medical sales companies to work for in 2020.
The 9th Annual Best Places to Work in Medical Sales survey polled over 1,200 professionals from the MedReps community to identify which medical sales companies are currently the most sought-after in the industry.
The survey results also identified the qualities and values most important to medical sales reps today, which led to them voting for their favorite company. In 2020, medical sales reps value work-life balance (83%), supportive and collaborative co-workers (53%), and trustworthy leaders (53%).
"This year, we found medical sales employee satisfaction is at a record-breaking high," said Karyn Mullins, president at MedReps. "An incredible 90% of medical sales respondents say they're satisfied with their jobs. We believe this jump is a result of employers focusing on various factors impacting employees, specifically a positive corporate culture through growth opportunities and the ability to make a difference in others' lives."
At Syneos Health, employees are developed with a purpose in mind. Leaders frequently show their teams the bigger picture to keep employees inspired and driving forward through challenging work.
"Syneos has a positive company culture allowing individuals to develop and thrive," one Syneos Health employee explained. "The culture is driven and we're consistently problem-solving to find ways to create value for our clients. To support this culture, leadership offers clear direction and maintains an honest and open relationship with employees."
Teleflex also puts people at the center of all it does -- one of the most notable commonalities between our winners.
"A key component of our culture is our core values and people are at the center of everything we do," Mike Cummings, Vice President Human Resources, The Americas at Teleflex, shared. "This hasn't been a one-year change; this has been a multi-year cultural transformation that people can see and feel."
Growth opportunities are one of the top two reasons CONMED employees voted for their company. Lisa McCallister, the Talent Acquisition Manager at CONMED, says its leadership's belief in growing both vertically up the ladder and horizontally to learn new skills impacts employees most.
"Our growth has allowed us to expand our sales force, which created new sales and sales leadership positions. We were able to promote many internal sales reps into those roles," she explained. "We also believe in moving horizontally to learn and grow. Someone can switch from marketing to finance or HR to sales. When you perform and your strengths align, we always look to continue to grow you in many areas of the organization."
Notable findings from the survey include:

35% of respondents say the best part about their job is the ability to make a difference/impact.
Only 17% said positivity is an important leadership characteristic. Instead, they want them to be honest and trustworthy.
A mere 11% of respondents said they are in an active job search.
When asked, "What is the best part of your job?" 24% of respondents said "opportunity for growth."
"Job satisfaction correlates with a low number of medical sales reps actively looking for new jobs, which is pleasantly unusual," Mullins said. "However, to become a Best Place to Work in the eyes of your employees, it's still critical to focus on and continually evolve the people-aspects of your organization."
For more information, click here: https://www.medreps.com/medical-sales-careers/best-places-to-work-2020
About MedReps
MedReps is owned and operated by Healthcare Staffing Technologies. As the leading job site in its niche, MedReps gives members access to the most sought-after medical sales jobs and pharmaceutical sales jobs on the web. Members have access to over 6,000 jobs and can apply directly to the recruiters and hiring managers who post them. For more information on the No. 1 site for medical sales, marketing, and management careers, please visit MedReps.com.