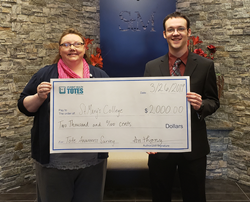 "This prize opens up opportunities to expand our Student Health Totes and enhance student learning long-term," said Duvall.
MONACA, Pa. (PRWEB) April 11, 2019
On Thursday, Pocket Nurse® announced the winner of the Tote Awareness Survey Campaign prize, which was $2,000 worth of their proprietary Student Health Totes. Rejeanne M. Burton Duvall, RN, MSN/Ed of St. Mary's School of Nursing in Huntington, West Virginia, accepted the award on March 26, 2019.
"Students pay for their equipment through tuition, so this prize opens up opportunities to expand our Student Health Totes and enhance student learning long-term," said Duvall.
Duvall won the prize by random draw from over 1,000 respondents to the fall 2018 Tote Awareness Survey. The survey collected feedback on Student Health Totes from Pocket Nurse. For example, the survey shows 96 percent of customer respondents would share positive or very positive comments about Student Health Totes to inquiring colleagues.
"We like to take any opportunity to help healthcare programs," said Pocket Nurse President and Founder Anthony Battaglia, MS, BSN, RN. "We're familiar with the great work St. Mary's has been doing for nearly 100 years and are excited they won our prize."
Student Health Totes are custom or pre-filled totes of simulation equipment provided for individual students to practice their skills with during their semester of studies.
"Simulation equipment is excellent for student learning," said Duvall. "Students can practice important skills multiple times until they feel comfortable. Simulation allows them to learn from their mistakes without actual patients suffering negative consequences."
Pocket Nurse regularly solicits feedback from customers about their purchases and experiences with Pocket Nurse, as well as their challenges and needs within their roles.
"Feedback from customers is the cornerstone of Pocket Nurse strategy," said Battaglia. "We constantly seek input from our educators so we can better support them."
About Pocket Nurse
Pocket Nurse is nurse owned and operated and has been a trusted partner in simulation education for nursing, EMS, pharmacy technology, and allied health since 1992. We provide over 5,000 simulation solutions to healthcare educators nationwide. We're proud of our role in improving patient outcomes by enhancing suitable learning environments for future healthcare professionals.