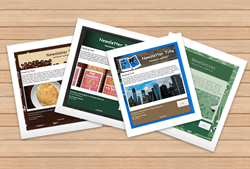 It's extremely easy to design and share newsletters. The customization options give customers a lot of flexibility to get the look they want while designing newsletters. – Rajeev Vachani, CEO, SurveyMethods.
San Jose, California (PRWEB) August 08, 2017
SurveyMethods recognizes that the very first interaction greatly influences a relationship. For a business to attract customers, it is important to create an intriguing first impression; as Princeton University Psychologists say, "It just takes a tenth of a second to form an opinion about someone, and that longer exposures don't significantly alter those impressions." To build loyalty, maintaining that impression becomes a necessity. Delivering a quality product will get businesses off to a good start, but it's just not about that. With evolving competitive pressures and customer expectations, engaging with customers is imperative to acquire, convert, and retain them.
SurveyMethods' email newsletters are a quick, easy, and effective way for businesses to address these evolving needs and establish relationships with prospects and customers through meaningful communication, build loyalty, increase brand visibility, and most importantly, increase sales and revenue. "Emails generate a median ROI of 122% which is more than four times higher than any other type of marketing," revealed a survey conducted by Direct Marketing Association (DMA) and Demand Metric in 2016.
Yes, Facebook, Twitter, and various online forums help to communicate and engage with prospects and customers, but for businesses that need to communicate directly with their target audience and build value as well as boost profits, email newsletters are the best trick.
"Email is 40 times more effective at acquiring customers than social media." – McKinsey.
Email Newsletters from SurveyMethods: How they Benefit Businesses
With SurveyMethods, it is easy to design and send attention-grabbing professional email newsletters within minutes. Whether it's a general announcement about a product or an upcoming event, a personalized offer to exclusive customers, or just the latest industry news and trends, users can select one of the stunning professionally-designed themes or get creative with the extremely intuitive interface and build their own custom newsletters from scratch.
With insightful stories knitted around their products and aligned with their customers' needs and interests, businesses can share eye-catching newsletters that include images and useful calls-to-action to get people to their website and read more about them. This will help to create awareness, improve customer engagement, and foster long-lasting relationships.
Here's how to create and share stunning email newsletters with SurveyMethods to engage customers by providing them with actionable information, build loyalty, and keep them coming back!
For over a decade, SurveyMethods has helped businesses transform data into decisions and prospects into relationships using online surveys, polls, event management, and data analysis. Email newsletters, the latest tool in this list, help to build and execute effective marketing strategies that create value while driving sales and revenue.