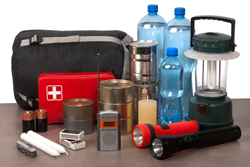 We love having a one-stop shop for all of our Survival Gear needs, and we're happy to give The Ready Store our highest recommendation in 2020.
OVERLAND PARK, Kan. (PRWEB) December 30, 2020
TopConsumerReviews.com recently gave another best-in-class ranking to The Ready Store, a trusted Survival Gear store.
As natural disasters appear to be on the rise, many people find themselves wanting to be more prepared. Although once thought to be the domain of "preppers" alone, Survival Gear can mean all the difference between life and death for the average person — or certainly between riding out an event comfortably versus being hungry, thirsty or cold due to a lack of supplies. Survival Gear stores can usually recommend the right combination of items for any situation: a "go bag" or 72-hour kit for short-term needs, long-term food storage, or wilderness survival must-haves for treks out into the mountains are just a few examples.
"The Ready Store definitely lives up to its name, with an ample array of Survival Gear to help you be prepared for any situation," according to Brian Dolezal of TopConsumerReviews.com, LLC. "There's no other store we've found that has preparedness products in more categories: from emergency food supplies to water filtration systems and more, you're likely to find it on The Ready Store's website. It's easy to shop according to the kind of gear you need, like shelter or medical supplies, or by the type of emergency you're trying to prepare for. Pricing at this retailer is competitive, and customers get free shipping on all orders over $100. We love having a one-stop shop for all of our Survival Gear needs, and we're happy to give The Ready Store our highest recommendation in 2020."
To find out more about The Ready Store and other Survival Gear stores, including reviews and comparison rankings, please visit the Survival Gear category of TopConsumerReviews.com at https://www.topconsumerreviews.com/best-survival-gear/.
About The Ready Store
Founded by Jeff and Amy Davis in 2002, the Ready Store delivers Great Products, Unbeatable Prices and Service that is unparalleled in the emergency preparedness market. Their freeze-dried foods are sourced from the best growers and are guaranteed to last for 20-30 years, providing peace of mind for decades to come. With a deep commitment to customer service, The Ready Store works hard to offer an excellent shopping experience, answer questions accurately, and ship products quickly after purchase. Based in Draper, Utah, this retailer of emergency preparedness gear and food storage enjoys partnerships with household-name companies like Amazon, Costco, and Overstock.
About TopConsumerReviews.com
TopConsumerReviews.com, LLC is a leading provider of reviews and rankings for thousands of consumer products and services. From Survival Gear to Identity Theft and Internet Filters, TopConsumerReviews.com delivers in-depth product evaluations in order to make purchasing decisions easier.