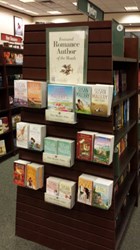 I wouldn't be where I am today if not for my wonderful readers pressing my book into a friend's hands, saying, 'You will love this!'
Seattle, WA (PRWEB) September 17, 2013
Susan Mallery, author of Christmas on 4th Street, a Fool's Gold romance novel, is being featured at Barnes and Noble bookstores nationwide. As the Featured Romance Author, Mallery was invited to spotlight several of her own books, as well as to recommend books by other authors she thinks readers will love.
"Reading is both a solitary and a social activity," Mallery says. "Although we read alone, the first thing we want to do when we're done with a good book is to tell someone about it. I owe my career to that fact. I wouldn't be where I am today if not for my wonderful readers pressing my book into a friend's hands, saying, 'You will love this!'"
Indeed, Mallery's name is a familiar one on Top Ten lists of publications such as the New York Times, USA Today, and Publishers Weekly. Her most recent book, Three Little Words, debuted at number 2 on the New York Times bestsellers list, statistically tied for the number one slot.
Mallery continues, "I'm honored to be able to introduce readers to some of my favorite writers – many of whom happen to be good friends."
Each Barnes and Noble bookstore around the United States is slated to feature Mallery on the endcap of one or more shelves, prominently displaying Susan Mallery's Fool's Gold Cookbook, six Fool's Gold romance novels (Chasing Perfect, Almost Perfect, Only Mine, Only Yours, Two of a Kind, and Three Little Words), and the books she recommends: Homicide in Hardcover by Kate Carlisle, Betrayal by Christina Dodd, Smooth-Talking Stranger by Lisa Kleypas, Too Hot to Handle by Victoria Dahl, and Currant Creek Valley by Raeanne Thayne.
Next up from Susan Mallery is Christmas on 4th Street, which will be released in hardcover, ebook, and audiobook on September 24. Visit SusanMallery.com to read free excerpts of this and of many of her other books.
About Susan Mallery:
With more than 25 million books sold worldwide, New York Times bestselling author Susan Mallery is known for creating characters who feel as real as the folks next door, and for putting them into emotional, often funny situations readers recognize from their own lives. Susan's books have made Booklist's Top 10 Romances list in four out of five consecutive years. RT Book Reviews says, "When it comes to heartfelt contemporary romance, Mallery is in a class by herself." With her popular, ongoing Fool's Gold series, Susan has reached new heights on the bestsellers lists and has won the hearts of countless new fans.
Susan grew up in southern California, moved so many times that her friends stopped writing her address in pen, and now has settled in Seattle with her husband and the most delightfully spoiled little dog who ever lived. Visit Susan online at http://www.SusanMallery.com.