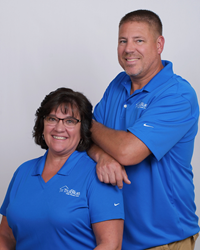 For most of us, our homes are our largest investment and taking proper care of them can often cut into the time we'd rather be spending with family or doing other fun things. With TruBlue, you can make one call for all of your house care needs. - Susan Vandegenachte
BIG BEND, Wisc. (PRWEB) September 26, 2018
Susan and Jeff Vandegenachte, local residents of Elkhorn, are pleased to announce the launch of their new business, TruBlue of Southern WI.
TruBlue offers handyman services, house cleaning services, emergency repairs, seasonal projects, yard/lawn care, a home watch program, a senior accessibility program and more. TruBlue is a great option for busy families and seniors who want the comforts of their own home without worrying about property maintenance. TruBlue also works with homeowners, realtors and rental property owners who need to quickly get homes move-in ready and keep them maintained and has commercial services for business clients. TruBlue of Southern WI serves Big Bend, Mukwonago, Dousman, Eagle, North Prairie, Genesee Depot, Wales, Waukesha, East Troy, Elkhorn, Williams Bay, Fontana, Lake Geneva, Muskego, Wind Lake and the surrounding communities.
Susan owned a Merry Maids franchise for about 10 years and Jeff has a varied background that has often included working with contractors and building materials. They'd been looking for the right business opportunity for almost five years when they came across TruBlue. They liked that the business allowed them to use their backgrounds while making a positive impact on people in their community.
"For most of us, our homes are our largest investment and taking proper care of them can often cut into the time we'd rather be spending with family or doing other fun things. With TruBlue, you can make one call for all of your house care needs. Whether you need maid services, handyman help or you have a special project in mind, we can help," Susan said.
To assist those with ongoing home care needs or who want to take property management off their plates entirely, TruBlue recently rolled out a monthly house care program, which enables clients to contract with a local TruBlue office to do everything from regular seasonal property maintenance to maid services and lawn work. While these services are great for anyone, they are especially helpful for seniors who want to age in place in a safe and comfortable home as well as busy families and those caring for older family members. This is a service the Vandegenechtes are especially excited to offer.
"I used to work at a nursing home and I really loved it. We had a rehabilitation center and I always wondered about the help people had at home after they left our facility. Sure, you can hire a home health agency to help with your physical recovery, but what about getting your home ready and maintaining it? With TruBlue, we can handle everything from building a ramp and putting in hand rails to the regular maintenance like lawn care, cleaning and handyman repairs. Our services aren't just for seniors, but I'm especially looking forward to working with seniors and families to help older adults age safely in place," Susan said.
Susan is a lifelong resident of Southern Wisconsin and Jeff has lived in the area for about 13 years. Not only do they enjoy volunteering at Lakeland Animal Shelter in Elkhorn, but they are active bowlers and especially enjoy bowling in fundraisers. They have four children – Lisa, David, Kailyn and Matthew – as well as two grandchildren, Brayden and Kenzie.
All TruBlue employees are licensed, bonded and insured. To learn more about TruBlue of Southern WI, call (262)232-6661, email SouthernWI@TruBlueHouseCare.com or visit https://www.trubluehousecare.com/southern-wisconsin/.
About TruBlue
TruBlue provides one convenient and affordable solution for all your house care needs – inside and out. TruBlue's services include house cleaning, household repairs, yard work, emergency repairs and seasonal work, all handled by a personal House Care Manager. These affordable services are available year-round and customized to meet your needs and budget. TruBlue strives to provide affordable, worry-free living for seniors and hassle-free living for busy adults with the goal of eliminating the worries, hassles and headaches of home maintenance by providing full-service, trustworthy house care services. TruBlue even offers owners financing for the larger remodeling and property projects. Watch for TruBlue to the Rescue projects which are designed to reach out to neighbors in need of volunteer assistance.