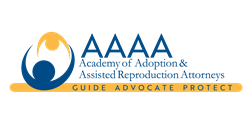 GREENWOOD, Ind. (PRWEB) November 12, 2019
Each year, RESOLVE (The National Infertility Support Group) acknowledges a select group of individuals/organizations who have truly impacted those diagnosed with infertility. This year, Academy of Adoption and Assisted Reproduction Attorneys ("AAAA") Fellow Susan Crockin received RESOLVE's prestigious Hope Award for Achievement, presented at the Night of Hope Gala in New York City on November 11, 2019. AAAA is proud to extend sincere congratulations to our friend, colleague and mentor Susan Crockin.
In 1988, Susan started one of the first legal practices in the US focusing exclusively on ART and Adoption Law. She currently teaches both domestic and international ART law at Georgetown Law Center, and is the principal attorney at Crockin Law and Policy Group. She holds appointments as a Senior Scholar at Georgetown's O'Neill Institute for National & Global Health Law, as adjunct professor at Eastern Virginia Medical and as a Research Assistant Professor at Georgetown's Kennedy Institute of Ethics, where she is developing "Jones Rounds," an inter-disciplinary Legal-Ethics curriculum designed for ObGyn residents and REI fellows and named in honor of the late Howard Jones, MD. Susan writes and lectures extensively on the legal, ethical and policy aspects of ART, and is well-recognized for her thoughtful analysis and insight in these areas.
Among her many accomplishments, Susan was a founding member of both ASRM's Legal Professional Group and the Academy of Adoption and Assisted Reproductive Technology Attorneys, is a former board member of RESOLVE, and a current member of SART's Model Consent Committee.
Susan, AAAA salutes you!
About the Academy of Adoption and Assisted Reproduction Attorneys
The Academy of Adoption and Assisted Reproduction Attorneys (AAAA) is a credentialed, non-profit organization dedicated to the competent and ethical practice of adoption and assisted reproduction law. It advocates for laws and policies to protect the best interests of children, the legal status of families formed through adoption and assisted reproduction, and the rights of all interested parties. It is represented by 470 attorneys or "Fellows" from the United States, Canada, Australia, Argentina, Israel and the United Kingdom who focus their law practices on adoption law, assisted reproductive technology law (ART) or both. AAAA is headquartered in Greenwood, Indiana. For more information, visit us at adoptionART.org.