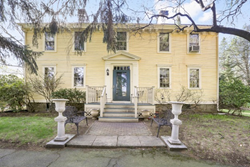 It's a cultural celebration highlighting the connections between life today, tomorrow, and yesterday, with emphasis on today.
Haverhill, MA (PRWEB) May 04, 2017
On Saturday, May 20, from 2-4 p.m., gates will open at the William White Homestead in Haverhill, MA, located at 86 Mill Street. When asked if it's an open house, Susan Rochwarg, the founder of the Susan Sells Real Estate Team at Keller Williams Realty, answered, "Yes and no….the house will be open, but it is more than that. It's a cultural celebration highlighting the connections between life today, tomorrow, and yesterday, with emphasis on today."
Steeped in history, and originally constructed in 1680, the ten-room, five-bedroom homestead remained in the White family for 245 years. Set on beautifully landscaped 1.5 acres in the Highlands section of Haverhill it features mature perennial gardens, accented by patios and an expansive lawn, outbuildings, meditation garden and more. A number of local artists, actors, musicians, business owners, designers, photographers and gardeners have been invited to the event to express "today, tomorrow and yesterday" in and around the house and grounds.
William White was one of Haverhill's original settlers and the author of the original deed between the settlers and Native Americans granting the land where the City of Haverhill began in 1642. He built his second home on the present site in 1680 at the junction of Mill and Boardman Streets. The homestead has seen many additions and renovations over the past 337 years, including recently remodeled kitchen and baths.
The cultural event is open to the public and will appeal to a variety of interests to include history and lifestyle, herbs and gardening today, the Haverhill Cultural Council, with invited guests and participants including blogger Allison Colby-Campbell, Shakespeare readings, a house tour and more. For more information, visit https://www.facebook.com/SusanSellsRealEstate/ or text Susan Rochwarg at (978) 902-1231.
About Susan Rochwarg, Susan Sells Real Estate Team
Susan Sells is a team of real estate agents and experienced support people working together to help people make transitions, specializing in lifestyle matches to homes from condos to estates. Susan Sells has been in business since 1985 in the Andover area and surrounding communities, working with buyers and sellers. For more information, please call (978) 470-2048, or visit http://www.susansells.com. The office is located at 138 River Road, Suite 107, Andover, MA 01810.
About the NALA™
The NALA offers small and medium-sized businesses effective ways to reach customers through new media. As a single-agency source, the NALA helps businesses flourish in their local community. The NALA's mission is to promote a business' relevant and newsworthy events and achievements, both online and through traditional media. For media inquiries, please call 805.650.6121, ext. 361.