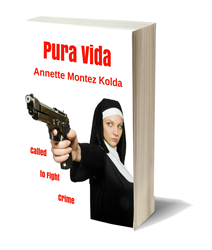 Sister Bridget had confidence in the forces of good.
Austin, Texas (PRWEB) April 07, 2017
A race war in the United States seemed imaginary and inconceivable six years ago when Annette Montez Kolda started writing "Pura Vida," a suspense thriller revolving around an American family. Suddenly, in today's economic and political climate, the idea doesn't seem so far-fetched.
The Lopez family has a lot on its plate: undocumented immigration, deportation, war, death, drugs, and teenage pregnancy, to name just a few. Now fifteen-year-old Miguel Lopez is unwittingly caught up in a terrorist plot. The terrorists are bent on pitting Americans against each other, and it's up to Miguel and Sister Bridget to stop them.
At the same time, Miguel's mother must journey deep into Mexico to find her missing husband and tell him that their eldest son has died in Afghanistan. She also seeks the truth behind her husband's disappearance.
Kolda, the author of the upcoming suspense thriller novel, grew up in a large, Catholic, Latino family in Corpus Christi, Texas. Her writing reflects her love for her culture and her Church. She graduated from the University of Texas and has enjoyed a career in teaching. She is a wife and mother of three, and currently resides in Austin, Texas. She recalls, "One agent rejected 'Pura Vida' because, as he put it, 'there are a lot of characters, a lot of motivations, a lot of plot.' I replied, 'But that's how we Latinos like our telenovelas!'"
Call or e-mail Annette Montez Kolda for an advance review copy of her upcoming suspense thriller "Pura Vida," available May 23, 2017 on Amazon.com and BarnesandNoble.com.
Annette Montez Kolda
atkolda5(at)gmail(dot)com