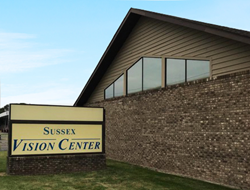 We are delighted to welcome Sussex Vision Center and Drs. Mike Sussex and Matt Austin to the Blue Sky Vision family
GRAND RAPIDS, Mich. (PRWEB) August 07, 2018
Sussex Vision Center, a multi-site optometry practice with deep community roots in southwest Michigan, has partnered with Blue Sky Vision. Michael Sussex, OD, founded the practice in Coldwater, and over the last three decades has added locations in Three Rivers and Sturgis. Dr. Sussex practices with Matt Austin, OD, to offer comprehensive eye health services for patients of all ages.
"I wanted to find the right partners as I begin my gradual transition to retirement," says Dr. Sussex. "With the resources of Blue Sky Vision and expertise of consulting surgeons in West Michigan for referrals, our patients in southwest Michigan will continue to receive great care locally and behind-the-scenes practice benefits that will enhance their overall experience."
Dr. Sussex grew up in Coldwater and has spent his entire life in southwest Michigan. He attended Spring Arbor College and graduated from Illinois College of Optometry. Dr. Austin grew up in Mishawaka, Indiana and recently joined Dr. Sussex as a graduate of Michigan College of Optometry at Ferris State University with Highest Distinction.
"We are delighted to welcome Sussex Vision Center and Drs. Mike Sussex and Matt Austin to the Blue Sky Vision family of more than 50 high-quality eye care providers across the West Michigan region," said Bill Hughson, Blue Sky Vision's CEO. "Mike comes to us with more than 30 years of commitment to serving the communities of Three Rivers, Sturgis, and Coldwater and the surrounding areas. We are honored to work with him and Dr. Austin to continue that commitment."
About Sussex Vision Center
Serving Southern Michigan for over 30 years, Sussex Vision Center offers comprehensive eye health services for the entire family. Their doctors and staff are committed to a patient-centered and evidence-based approach, staying current on the latest advancements in technology. Sussex Vision doctors and staff attend continuing education classes throughout the year in the areas of spectacle lenses, contact lenses, and eyewear design and fashion. For more information, visit: sussexvisioncenter.com.
About Blue Sky Vision
Blue Sky Vision (MSO) is dedicated to providing world-class support to leading providers of eye care services. Blue Sky Vision was created in early 2017 through a partnership between Grand Rapids Ophthalmology and Sterling Partners. Our Purpose is to Lead the Way, Improve Sight, and Change Lives; our Vision is to be the model for unsurpassed patient experience, inspiring and empowering our team through innovation, dedication to excellence, and the creation of opportunity through growth. To date, Blue Sky Vision partners include: Vitreo-Retinal Associates, Michigan Optical, Shoreline Vision, Walker Surgical Center, Lakeshore Eye, Surgical Care Center of Michigan, and Grand Rapids Ophthalmology. If you are interested in learning more about a partnership with Blue Sky Vision, contact Dan Hosler at dhosler@blueskyvision.com or visit: blueskyvision.com.