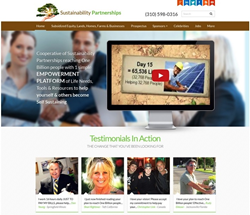 LOVE STRONGER! Stronger Than Ever, with all our Heart, Soul & Strength... Christopher Link
Los Angeles, California (PRWEB) October 14, 2014
The cooperative platform site is http://sustainabilitypartnerships.net/ designed to foster Sustainability Partnerships and to empower One Billion people to become Self Sustaining, and to transmute everything that participants do into Organic Food, Funds, Jobs, Businesses and Homes.
Sustainability Partnerships cooperative platform taps into multiple markets that reach +$1,000,000,000,000.00 yet their initial forecasts is conservative at $8.4 Billion annual sales by 2020. Experts, teams and everyday people have contributed and the movement is on track to reach One Billion people
Contributors, sponsors and investors are invited to participate and to receive equity, rewards and benefits to reach One Billion people with a simple platform of basic life needs, funds and resources needed to help oneself & others become Self Sustaining!
They want to thank everyone in advance for participating as follows:
1) Donate as a Sponsor
2) Invest to become an Equity Partner
3) Contribute your niche to become a Sustainability Partner
Sustainability Partnerships cooperative platform main office is in Van Nuys California, a subsidiary from the 1978 vision of Free Sustainability (non-profit organization) and Pay It Forward Anastasia (Humanitarian Company).
Visit the testimonial section and meet participants like Christopher Link, Steve Sande, Rudy Ekkawi, Tanya Buford, Dan Young and other amazing sustainability partners.
Media contact:
Christopher Link
(310) 598-0316
partners(at)sustainabilitypartnerships(dot)net