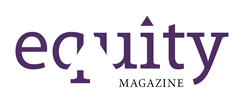 "There are so many challenges everyone faces right now. This conference represents the next step in the industry's increased focus on environmental, social and corporate responsibility." - Haj Carr, CEO Trueline, publisher of Equity
NEW YORK (PRWEB) September 04, 2018
On September 11, the third annual Sustainable Investing Conference will take place at the United Nations (UN). Featuring more than two dozen speakers from throughout the financial sector, the one-day event is expected to draw between 350 and 400 financial professionals.
"There are so many challenges everyone faces right now. This conference represents the next step in the industry's increased focus on environmental, social and corporate responsibility," says Haj Carr, CEO of Trueline, a marketing and publishing company whose publication, Equity, is an official media partner of the event.
According to one of the event's organizers, Jeff Gitterman, the goal of this year's conference is to tie socially responsible investing to the UN's Sustainable Development Goals. Those goals include quality education, zero hunger and reduced inequality.
"We're trying to dispel the myth that sustainable investing doesn't yield good returns," says Gitterman, who is co-founding partner of the Edison, New Jersey, and New York City-based firm, Gitterman Wealth Management (GWM). "The conference will feature a number of managers that have a five-year track record of outperforming alpha benchmarks," he says. "This is the future of our business."
Following breakfast and a brief keynote address, the conference will feature four panels on topics ranging from the growing RIA commitment to ESG to a discussion on the merits of sustainable investing, moderated by Morningstar.
The conference will conclude with a 90-minute networking reception, and will be recapped by Equity.
Tickets to the event can be purchased through Eventbrite, or by visiting http://advisor.gittermanwealth.com/2018conference/
Gitterman Wealth Management is an industry leader in the Sustainable, Impact, and ESG (Environmental, Social and Governance) Investing space, offering investing services for individuals, as well as research, education and investing services for other financial professionals. For more information, please visit http://www.GittermanWealth.com
Investment advisory services are offered through Gitterman Wealth Management LLC, an independent investment advisory firm registered with the SEC (CRD 153062). Associated persons of Gitterman Wealth Management LLC are licensed with and offer securities through Vanderbilt Securities LLC, member FINRA/SIPC, registered with MSRB (CRD 5953). Gitterman Wealth Management LLC and Vanderbilt Securities LLC are separate and distinct federally regulated entities.