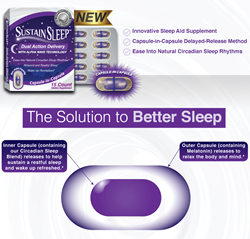 The Solution to Better Sleep!
LARGO, Fla. (PRWEB) October 18, 2017
The reason why the majority of sleep aids aren't effective is that they are all made exactly the same, and have been for years. No innovation and no new ingredients to help support getting to sleep. Well, that is all about to change with Sustain Sleep, the solution to better sleep.
Sustain Sleep is a brand new unique sleep aid that utilizes alpha wave technology, a capsule-in-capsule dual action delivery system to ease the human body into natural circadian sleep rhythms. This scientifically tested innovative sleep aid supplement dual-release application helps ensure a relaxed and restful sleep experience.
Call 1-800-244-3713 to order over the phone or visit http://www.sustainsleep.com to purchase online.

Innovative Sleep Aid Supplement
Capsule-in-Capsule Delayed Release Method
Proprietary Circadian Sleep Blend
Ease into Natural Circadian Sleep Rhythms
The Division of Sleep Medicine at Harvard Medical School confirms that sleep deprivation has been associated with serious health problems like obesity, Type 2 Diabetes, and heart disease. Lack of sleep is also known for slowing the ability to problem solve and can increase stress levels.
Matthew Walker, author of Why We Sleep and Director of the Center for Human Sleep Science at the University of California states that "lack of sleep can have serious consequences; and that sleep deficiency is associated with problems in concentration, memory and the immune system, and may even shorten life span."
Jeffery C. Hall and Michael Rosbash, both faculty members at Brandeis University in Boston, and Michael W. Young of Rockefeller University in New York City, were awarded the Nobel Prize for their research on circadian rhythms and how the human body adjusts for day verses night, longer summer days verses winter days. The circadian sleep rhythm, or biological clock as many refer to it as, not only helps regulate sleep patterns, but also plays a part in how and when we eat, timing of hormone releases, and blood pressure rates.
Sustain Sleep prepares the body to ease into natural Circadian Sleep Rhythms to have a relaxed and restful sleep.
Alpha Wave Technology: Capsule-in-Capsule
The capsule-in-capsule Alpha Wave Technology deploys a dual action delivery of melatonin in the outer capsule to relax the body and mind and, shortly after an inner capsule containing the Circadian Sleep Blend, which assists in providing a restful sleep experience and waking up feeling refreshed.
Sustain Sleep contains some of the effective natural ingredients on the market such as Melatonin, Hops Extract, L-Tryptophan, L-Theanine and Magnesium for sleep.
Automatic Monthly Shipments of Sustain Sleep
During checkout, choose Automatic Monthly Supply to receive monthly shipments of Sustain Sleep. Monthly automatic shipment plans start off at $19.95 (plus shipping and handling). Increasing the quantity will add more boxes of Sustain Sleep to your monthly reoccurring order.
Online influencers, product reviewers and media sources should email mtimko(at)suncoasthealthbrands(dot)com for more information about Sustain Sleep.
Call 1-800-244-3713 to order over the phone or visit https://www.sustainsleep.com/ to purchase online.