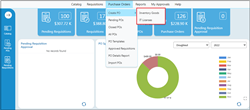 "Truly love the product. Better than anything else I am aware. So easy to use from input to actual payment, easiest manner in which to function."Dennis KStrategic Accounts Manager,Construction, 501-1000 employees
SUNNYVALE, Calif. (PRWEB) December 29, 2022
New features will continue to streamline the approval process while improving the overall process efficiency.
Some of the New Features Include:
Customize Requisition Templates
SutiProcure allows administrators to customize requisition templates by adding/deleting fields as required for creating requisitions and purchase orders.
Two-Factor Authentication (2FA)
SutiProcure now supports two-factor authentication that requires users to confirm their identity with Google Authenticator or OTP received on their smartphones or registered email addresses to login into the application.
Configure Department Head as Approver
The solution allows administrators to configure heads for each department and set them as the first approver for requisition requests.
Filter Vendors
Users can search vendors by name, email address, approval status and other criteria.
For more details, please visit http://www.sutisoft.com/sutiprocure/ or call us at 650-969-SUTI.
About SutiSoft Inc
SutiSoft develops a comprehensive suite of cloud-based business platforms and solutions for companies of all sizes. Our four SaaS platforms - Spend, HR, eSignature and CRM Platforms include scalable and easy-to-use solutions such as Travel & Expense, Accounts Payables, Accounts Receivables, Procurement, Supplier Relationship Management, HR, CRM, Document Management, Electronic Signature, Contract Lifecycle Management, and more. Our solutions enable SMBs, mid-market, and enterprises to cut costs, save time, and help in making smart business decisions. Headquartered in Sunnyvale, California, SutiSoft also has regional offices in Germany, India, and Japan. For more information, please visit our website https://www.sutisoft.com.