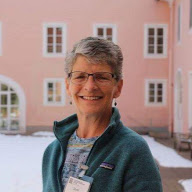 "Through her work with museums, on committees, and in publications, Sutton has emerged as the leading voice for developing field-wide environmental and climate response expectations and guidance, and for cross-sector collaborations benefiting all." -- American Alliance of Museums
TACOMA, Wash. (PRWEB) November 14, 2019
There are 35,000 museums and historic sites in the United States. Their carbon footprints are hefty and their social responsibility even greater. If they shared their environmental humanities and science resources to sufficiently engage the 850 million visitors they see each year, it could provide solutions the world needs most. This is according to Sarah Sutton, who received the American Alliance of Museums' inaugural Individual Impact award in Sustainability Excellence earlier this year.
"I was so overwhelmed [by the award] that I totally flubbed my attempts to acknowledge the honor and to sufficiently thank all the peers who have joined in with me on this work, and have been encouraging all along," she said. Acknowledging that this is new territory and requires broad support, she said "Museums, zoos, aquariums, historic sites and public gardens are incredible sources of scientific and cultural information on environment and climate, and how humans have interacted with both. What these institutions care for and what they can impart is a very important part of a community's climate dialogue. We are all hoping to spread that work."
The American Alliance of Museums supports this work. Its July/August 2018 issue of Museum magazine was dedicated to sustainability work across the field. The professional network formed 11 years ago continues to expand in size and scope. And in 2019 it added the new category to its Sustainability Excellence Awards and the award to Sutton.
Sutton is an environment and climate consultant working out of Tacoma, Washington, helping institutions engage their resources and their communities on environment and climate. She is a member of the Executive Committee of We Are Still In, leading the cultural sector in support of the Paris Agreement. "Everyone has a role to play in reducing impacts on climate and learning how to adapt - everyone including your local museum or other favorite place," she says.