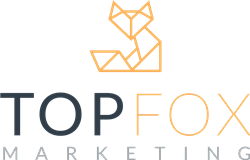 BOULDER, Colo. (PRWEB) September 28, 2020
Sutula Marketing, a leading digital marketing agency, announced today that it is changing its name to Top Fox Marketing (http://topfoxmarketing.com). After more than five years in business, Sutula Marketing is expanding its offerings and changing its name to reflect its growing capabilities, collaborative approach and proven process.
Top Fox Marketing will continue to focus on:

Solid Brand Strategy & Positioning
Exciting Campaigns
Actionable Marketing Plans
Stunning Visual Identities
Conversion-Oriented Wordpress & Squarespace Websites
Effective Ongoing Marketing Execution
"Our vision is to help brands big and small elevate their marketing, generate leads and meet their growth objectives. We take a no-nonsense approach to getting to each client's unique needs and determining the right strategies for their goals," said Lindsay Sutula, CEO of Top Fox Marketing. "Our new name allows us to emphasize our growth, celebrate the talent on our team and elevate the quality of our work... And like our friend the fox, we are clever, sharp and a little unexpected... at least we like to think so."
We will continue to serve and focus on the industries we have deep knowledge and partnerships in:
B2B(2C)

Construction materials, building products, and packaging
Commercial and professional services
Finance and fintech
Software development
Healthcare services
Telecommunications services
B2C / Direct to Consumer

Apparel, accessories and luxury goods
Internet and e-commerce
Subscription delivery kits
Natural foods
Travel and tourism
Nonprofit & Advocacy
The new name is effective immediately and will be implemented across the company's product and services throughout the calendar year of 2020.
ABOUT TOP FOX MARKETING:
Top Fox Marketing is a true marketing partner for clients looking for sustainable growth. A full-service, results driven digital marketing agency, our team of senior marketers have deep experience on both the brand and agency side. Complementing our core team is a carefully cultivated network of trusted marketing specialists that we activate on-demand. This cost-wise approach enables us to provide you with precisely the marketing you need, when you need it.