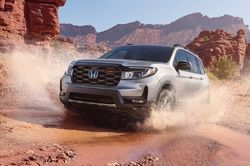 CHARLOTTETOWN, Prince Edward Island (PRWEB) February 14, 2023
Drivers who are fans of powerful SUVs have great news. They can buy a new vehicle this year near Charlottetown and fulfill their dreams. Honda SUVs are famous for their rugged build, high-end performance and massive capability. The latest version of the Honda's Passport model, the 2023 Honda Passport, is now available at the Capital Honda dealership. With enhanced performance features, the SUV is perfect for drivers who love wild off-road adventures.
Interested buyers should check out the tech-savviness and top-notch performance of the 2023 Honda Passport. They can browse this SUV via the dealership's website and learn more about its technical specs if they reside far from the dealership. People closer can visit the dealership directly and test drive this power-pumped Honda SUV. Test driving helps drivers understand how the vehicle behaves on the road. They can also test the new features and upgrades available in the vehicle. This SUV's massive 3.5L V6 engine offers phenomenal power and performance.
Buyers can explore the capitalhonda.com website to learn about the new Honda deals, latest models and offers available at the Capital Honda dealership. For more information on the powerful 2023 Honda Passport, they can visit the dealership at 40 Lower Malpeque Road, Charlottetown, PE C1E 1R3 or contact them by phone at 902-566-1101.