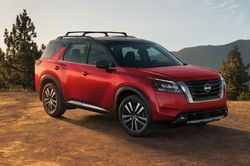 GLENDALE HEIGHTS, Ill. (PRWEB) February 16, 2023
People near Glendale Heights, Illinois, who are planning to buy a new SUV this year that is well-built, powerful and capable can get ready to make their purchase. Nissan's Pathfinder is now available in its latest and greatest version. The 2023 Nissan Pathfinder Platinum, the highest trim level of the Pathfinder, is available at the Glendale Nissan dealership. It dons a modern makeover and has advanced upgrades. Customers who want to drive a power-packed, capable, tech-savvy SUV should explore this vehicle in person.
Interested buyers can visit the Glendale Nissan dealership directly and check out the new 2023 Nissan Pathfinder Platinum. This allows them to test drive the vehicle. Drivers can quickly understand how vehicles behave and perform on and off the road via proper test drives. Also, they can check out the new enhancements and features added to vehicles. Customers who are far and cannot visit the dealership in person can browse the dealership's website and easily explore the new Nissan inventory. They can learn more about the 2023 Pathfinder Platinum's technical details.
The SUV has a well-built 3.5L V6 engine under its hood. It delivers impressive power and performance on all terrains and weather. Credits for this also go to the next-gen performance enhancement features available in the 2023 Pathfinder Platinum.
Customers can access the glendalenissan.com website to learn about the Nissan Pathfinder, new vehicle offers and expert services available at the dealership. For detailed information on the rugged 2023 Nissan Pathfinder Platinum, they can meet the dealership team at Glendale Nissan, 484 E North Avenue, Glendale Heights, IL 60139 or contact them by phone at 630-469-6100.