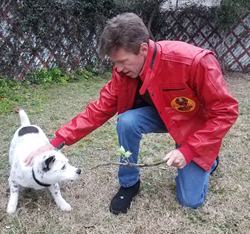 Suzahdi celebrates Thanksgiving as a time of appreciation and TLC with 15 % off code blackfriday21 on all classic and cosplay leather jackets.
SAN DIEGO (PRWEB) November 25, 2021
The handcrafted classic and cosplay leather jacket and vest service is offering a beautiful Black Friday sale for early-bird shoppers. Actually, the sale is live now through November 30, 2021 on the Suzahdi Cosplay Leather Jackets website with a flat 15% off on all creations that include replicas of the fashions made popular by Rick Grimes, Star-Lord, League of Extraordinary Gentlemen, Chris Eccleston Doctor Who, Mad-Eye Moody, Cobra Kai, Dean Winchester, the much beloved John Lennon and many more. It is the time to spread the Thanksgiving good news.
Hundreds of classic and cosplay jacket and vest styles are available in sizes XXS to 4XL and a custom fit choice, too, for women and men all in one place, the Suzahdi website.
Black Friday is such an exciting day because of the amazing shopping deals, but it follows a day of food, of family, of love, of giving, of appreciation, and of friendship. Cyber Monday is also not far behind. A new Google Pixel or iPhone 13 will look perfect and safe in the inside pocket of a Suzahdi classic or cosplay leather jacket. Two good-sized pockets are inside practically every leather jacket.
Founded in 2012 in Florida, USA, Suzahdi has become the classic and especially the cosplay leather jacket and leather vest's most trusted handcrafter of leather jacket artistry. As of January 1, 2022, Suzahdi, the classic and cosplay leather jacket and best brand and service of Elegant Group Inc, will be ten years old. The Suzahdi team has decades of experience creating classic and cosplay leather jackets that are unique and yet as accurate as possible. Shoppers will find quality and TLC in Suzahdi products, each handmade to order.
Suzahdi is committed to customer satisfaction, which is why the team works continually to offer classic and cosplay leather jackets and vests via excellent deals, craftmanship, and customer service. The team's aim is to offer affordability and accessibility for all customers anywhere in the world.
This year 2021, Suzahdi has started a Thanksgiving and a Black Friday and an every-day-left-in-November tradition, offering customers a much needed 15% off on all of its classic and cosplay leather jackets and vests, even the custom fit choice.
Just enter code blackfriday21 at checkout for 15% off on the entire purchase, now throughout November 30, 2021.
"Elegant Group Inc's Suzahdi team wishes its industry friends and customer friends the most wonderful Thanksgiving ever. A few of Suzahdi's classic and cosplay friends and customers have Thanksgiving messages to share in Suzahdi's press release," Fahad Iqbal and Suzanne Bowen, Suzahdi cofounders team up to share.
The TomGrimescosplay says, "Cosplaying with my son and trying to embody characters of Rick and Carl Grimes to a level in which people appreciate...is the most rewarding part of cosplay. It feels like a stamp of approval. We are forever grateful to the people that have pictures with us, like our posts and who follow us [on Instagram.] The fact that we have also made new friends, both through social media and real life because of cosplay, is the cherry on the cake for us."
The CecilGrimesCosplay says, "I want to wish everyone a Happy Thanksgiving and healthy and safe New Year. We are survivors. We are family."
And the Bohemiancosplays says, "There's always something to be thankful for. Some things small. Something's big. And when you are thankful for those things you have, you will always end up having more…"
"We are grateful also to every single one of you," says Sarah, the one who sends a personal note to each customer with each purchase of Suzahdi classic and cosplay leather jackets.
Visit the Suzahdi website at https://www.suzahdi.com to check out their collection and take advantage of the Thanksgiving, Black Friday every-day-left-in-November 15 % off.
Contact Details:
https://www.facebook.com/suzahdi/
https://youtu.be/cGfMoxovPSU
https://www.instagram.com/suzahdi/