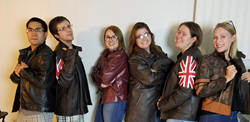 Wrap your body in Suzahdi leather jacket cosplay at Fan Fest London 2020.
PENSACOLA, Fla. (PRWEB) February 17, 2020
For the first time since its 2012 start up in Florida, USA, Suzahdi cosplay leather jackets and leather vests joins hundreds of fantastic vendors, artists, celebrity guests, volunteers and fans at Walker Stalker Con Fan Fest London the last weekend of February 2020! The Elegant Group Inc's cosplay leather vests and jacket line, as seen on Instagram cosplay leather jackets and vests, will showcase and make available for purchase its own handcrafted fashions of the likes of Rick Grimes, Negan, Han Solo, Sonny and the Electric Horseman, Dean Winchester, Supernatural, League of Extraordinary Gentleman, Wolverine, Logan, The Walking Dead and Once Upon a Time Emma Swan.
Walker Stalker Con London visitors are welcome to try on leather jackets and vests, see how they look in the Suzahdi exhibit mirrors, take selfies, purchase exhibit inventory, order new handcrafted items through Square or cash; play The Walking Dead, Firefly and Supernatural card games free, and tag and follow each other on Instagram, Twitter, Facebook and Pinterest via Suzahdi.
"To all Walker Stalker Con London vendors, artists, guest celebrities, volunteers and other cosplayers, we cannot wait to meet you! Be sure to write your @ social media presence (profile name) on our 'get to know who's who' board," says Suzanne Bowen, co-founder of Elegant Group Inc and Suzahdi's handcrafted cosplay leather jacket and leather vest line. "Most of all, we invite our customers, who make Suzahdi what it is, to hang out with us at our booth and around the Con to get to know each other. You already know each other via Instagram, right?"
"Since 2012, our tailors take fans seriously and do their best to replicate the cosplay leather jacket designs they love. The top seven most popular cosplay leather jackets are in the following order from most popular first: 3004 Rick Grimes cosplay leather jackets sold, 1547 Dean Winchester cosplay leather jacket aka leather coats sold, Erich Hartmann Bubi WWII German Luftwaffe leather jackets, Hans Solo leather jackets and vests with authentic magnet inserts, John Lennon Rubber Soul album brown suede style leather jackets, and Wolverine Logan Hugh Jackman style leather jackets. We listen to and enjoy our customers' stories about what led them to their respect for a certain character, actor, actress, TV show, video game, movie. Come by our booth and talk to us and each other," says Fahdi Iqbal, co-founder of Elegant Group Inc and Suzahdi's handcrafted cosplay leather jacket and leather vest line.
For more information about Elegant Group Inc's cosplay, celebrity and classic leather jackets and leather vests, follow us and to talk us via Suzahdi social media and visit https://stores.ebay.com/suzahdi and http://www.suzahdi.com. Visit Walker Stalker Con's Fan Fest page at https://www.fanfestevents.com/london __Fan Fest London 2020__ to get passes.