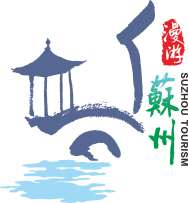 Suzhou's most stylish tourism experiences were prominently showcased at a luxury gift lounge presented by Luxury Experience & Co. and a star-studded New York Fashion Week evening party hosted by Celebrity Page TV.
NEW YORK (PRWEB) September 17, 2018
Suzhou Tourism took center stage on Thursday, September 6, as the exclusive destination sponsor of two high-profile events during New York Fashion Week. Suzhou's most stylish tourism experiences were prominently showcased at a luxury gift lounge presented by Luxury Experience & Co. and a star-studded New York Fashion Week evening party hosted by Celebrity Page TV.
Paying homage to the destination's centuries-long position as the center of China's silk industry, Suzhou Tourism gifted luxurious silk scarves from Xiu Niang Silk to nearly 100 attendees of the Luxury Experience & Co. gift lounge including celebrities such as Sullivan Stapleton (Blindspot), Dorinda Medley (Real Housewives of New York), Hannah Kat Jones (Austin & Ally), Julie Ann Emery (Preacher, Better Call Saul), Natalie Negrotti (Big Brother), Miracle Watts (Influencer), Lyrica Anderson and Flloyd "A1" Bentley (Love & Hip Hop), Calia Quinn (The Bachelor), Judy Goss (Behind The Gates), The Von Boozier Twins (TV/Media Personalities), Krystal Garner (The Grand Hustle), and many more. Founded in 1988 in a tiny silk tailor's shop in Suzhou, Xiu Niang Silk now operates more than 65 stores in upscale retail locations across China.
Following the gift lounge, Suzhou was the premier destination featured at a swanky, invite-only party hosted annually by Celebrity Page TV. Celebrity Page TV is a nationally syndicated, entertainment news show that provides viewers with an inside look at the events and people that shape pop culture. During the party, destination experts including representatives from Regent Tours, Inc. discussed Suzhou and its rich silk culture with nearly 250 VIP guests including Kelly Rutherford (Melrose Place, Gossip Girl), Melissa Gorga and Danielle Staub (Real Housewives of New Jersey), Carl Radke (Summer House), Brandon Wellington (Orange is the New Black), Meagan Tandy (Teen Wolf), Thorgy Thor (RuPaul's Drag Race), Julie Ann Emery (Preacher), Kris D. Lofton (Ballers), lifestyle expert Josh McBride, Miss USA 2018 Sarah Rose Summers, and many more.
Attending celebrities, influencers, and media virtually visited the destination by taking "Suzhou Selfies" in front of iconic attractions including UNESCO World Heritage gardens, quaint water towns, and a classical Suzhou tea house. Those sharing their snaps on social media and tagging @VisitSuzhou had the chance to win a Xiu Niang Silk scarf or a three-night stay at the prestigious W Suzhou, which opened just last year on the banks of Jinji Lake in Suzhou's modern SIP District. The hotel offers upscale dining options, a new rooftop bar, and cultural experiences including the opportunity to custom design a silk brocade garment hand-embroidered by a local artisan.
On September 14, Suzhou was featured in a Fashion Week recap episode of Celebrity Page TV that was broadcast nationally throughout the United States. A link to view the segment is available here. At the end of September, Suzhou will once again be featured in a dedicated travel segment on Celebrity Page TV. A full list of stations where the show can be viewed is available here.
HIGH RESOLUTION IMAGES ARE AVAILABLE FOR DOWNLOAD HERE.
The events during New York Fashion Week are tied to Suzhou Tourism's recently launched integrated social media campaign, which is designed to increase awareness of Suzhou's unique experiential features, elevate its profile as a must-see destination within China, and ultimately drive visitation from North American travelers. In February 2019, Suzhou will once again grace the stage when the destination sponsors a luxury gifting lounge during the 91st annual Academy Awards in Los Angeles, California.
Consumers can follow Suzhou Tourism's 12-month campaign by visiting the website TravelToSuzhou.com or following the destination's official hashtag #TravelSuzhou and social media channels on Instagram, YouTube, Facebook, and Twitter @VisitSuzhou.
About Suzhou
Suzhou, the "Venice of China," is known for its elegant stone bridges, canals, flowing water, and noteworthy architecture. Located in the center of the Yangtze River Delta, approximately 60 miles west of Shanghai, Suzhou is one of the oldest cities in the Yangtze Basin dating back more than 2,500 years. The city boasts the beautifully manicured Classical Gardens of Suzhou, nine of which have been designated a UNESCO World Heritage Site. Each year, millions of tourists travel to Suzhou to experience the destination's more than 400 attractions, ranging from pagodas and temples to historical districts and world-class museums. As the largest industrial city in China, Suzhou continues to develop, such as the Suzhou Industrial Park (SIP), which boasts five-star hotels, the iconic Lake Jinji, and China's largest overwater Ferris wheel.
Travel to Suzhou is easily accessible via three convenient area airports with non-stop flights from North America: Shanghai Hongqiao International Airport (SHA) offers bullet train service to Suzhou, which is approximately a 50-mile, 30-minute trip; Pudong International Airport (PVG) is approximately 65 miles from Suzhou, an hour and half drive; and Sunan Shuofang International Airport (WUX) is approximately 14 miles from Suzhou, a 30-minute drive.
For more information on Suzhou please visit http://www.TravelToSuzhou.com, and follow the destination on Instagram, Twitter and Facebook.