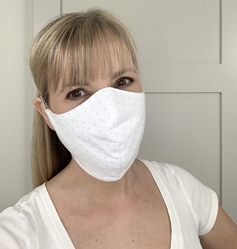 "With the recommendation for the general public to wear non-medical cloth masks, many people are sharing DIY mask instructions and patterns, but many American do not have a sewing machine," says Lynette Damir, R.N., Founder & CEO
SEATTLE (PRWEB) April 04, 2020
In a time of strife, baby brand SwaddleDesigns has turned their baby blanket manufacturing facility into a factory producing non-medical cloth facemasks.
On March 18th when SwaddleDesigns (located in Seattle, WA) learned the CDC crisis strategy to approve the use of non-medical cloth face masks if no medical-grade facemasks were available, SwaddleDesigns founder& CEO, Lynette Damir R.N. knew her company could be of help. "I started to review published studies that compared the filtration effectiveness of different fabrics. I knew I could do better than the bandana or scarf that was being recommended."
Lynette spent the next several days designing, fine tuning, test fitting and washing her design. The end result was a well-fitting mask that would stay secure. On the following Monday, she started the process to switch SwaddleDesigns baby blanket production facility in Seattle to making 2-layer cotton masks for non-medical applications. The masks, designed to filter airborne particles, are made from 2-layers of USA Cotton Flannel, which is soft, lightweight and breathable. The masks can be machine washed and used over and over again.
"With the recommendation for the general public to wear non-medical cloth masks, many people are sharing DIY mask instructions and patterns, but many American do not have a sewing machine," says Damir. "Initially, we were donating masks, and I've donated all that I can afford, being a small business, but still have the materials and sewists to make more. We are doing our best to keep-up." SwaddleDesigns is hiring additional employees to keep up with the demand for face masks.
Currently, SwaddleDesigns is selling the masks, and offering wholesale discounts for those who wish to purchase 100+. For more info, click here:
https://www.swaddledesigns.com/collections/cloth-fabric-face-masks