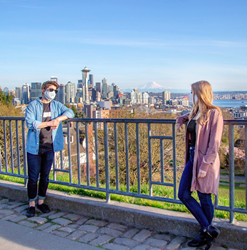 "We are supporting Seattle Protects to make it easier for businesses to find high-quality cloth masks." Lynette Damir, RN, CEO of SwaddleDesigns
SEATTLE (PRWEB) May 20, 2020
On Monday, May 11, King County directed residents to wear face coverings over the nose and mouth while in an indoor public setting, such as a grocery store, or outside when it is difficult to maintain six feet of physical distance. Employers were highly advised to distribute masks to their employees and modify work settings to support social distancing. Today, the city of Seattle announced the Seattle Protects program, which will help employers find cloth masks from Seattle-based manufacturers. SwaddleDesigns is pleased to be supporting the Seattle Protects program. (http://www.seattle.gov/mayor/covid-19/seattle-protects)
"We understand that as the regions throughout the country re-open, having masks available to protect employees, customers, as well as the general public, is important," says Lynette Damir, RN, CEO of SwaddleDesigns. "We are supporting Seattle Protects to make it easier for businesses to find high-quality cloth masks. We offer different fabrics, colors, styles, and sizes, because we understand it is important for a mask to be comfortable and attractive, as well as effective."
In March, SwaddleDesigns converted their Seattle-area baby blanket production facility to manufacture cloth masks. SwaddleDesigns offers two different cotton face masks, designed by Lynette Damir, RN. In addition to their US factory, SwaddleDesigns converted production capacity in their audited and approved baby blanket factories in China to produce cloth face masks. SwaddleDesigns is using cotton fabrics consistent with published studies and CDC recommendations.
1. Two-layer 100% Cotton Flannel Masks designed to filter airborne particles. The flannel is baby soft, lightweight and breathable. Features ear elastic and headband elastic for secure fit. Available in Adult Large, Medium size and Child size. Made in USA.
2. Three-layer 180 thread count woven 100% Cotton Chambray. The masks come with an adjustable, bendable nose piece for snug fit and ear elastic. Available in Adult Large and Medium. Imported.
Attractive designs, good fit, effective filtration, and easy care. SwaddleDesigns cloth masks are reusable and washable.
As people go back to work and more people are venturing outside their home, children will need a mask as well, which is why SwaddleDesigns recently introduced an assortment of darling kids cloth masks.
Currently, SwaddleDesigns is selling individual masks, and offering discounts for bulk purchases. For more info, click here:
https://www.swaddledesigns.com/collections/cloth-fabric-face-masks