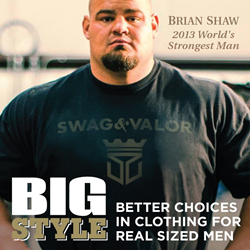 Swag & Valor has set the standard for men's underwear and I couldn't be more excited about our partnership.
Seattle, WA (PRWEB) May 19, 2014
Swag & Valor™, a leading innovator and supplier of fashion apparel for big and tall men, announced today its partnership with Brian Shaw, past winner of the World's Strongest Man competition, to launch a comprehensive product endorsement strategy designed to increase visibility and build brand recognition online.
"At 6 foot 8 inches and 415 pounds, Brian Shaw is a perfect representative for our unique brand of big and tall apparel for large men," said Doug Hill, Swag & Valor brand co-founder. "Brian is more than just physical size; he embodies the work ethic and character our customers aspire to."
Under the terms of his contract, Brian Shaw will promote the Swag & Valor brand to his fan base through social media channels and will be featured in numerous promotions launched by the company. Swag & Valor expects the celebrity endorsement deal to improve reach and engagement for the brand by acquiring follows, likes, and interactions for the brand's social properties. The strategic initiative will take off with a "Bigger IS Better" Facebook campaign that will give fans access to exclusive offers and promotions.
The strategic branding campaign featuring Brian Shaw is scheduled to launch May 2014.
About Swag & Valor
Based in Seattle, WA, Swag & Valor, an apparel brand owned by HST Holdings, Inc, is a new e-commerce business providing fashionable underwear, shirts, and other products in large sizes and fittings not offered by any other manufacturers. Swag & Valor is proud to offer consumers an expanding selection of quality big and tall apparel in sizes Medium up to 8XL.
Swag & Valor has significant backing from investors, including LaMarr Woodley, outside linebacker for the Oakland Raiders, and plans to roll out a series of new products throughout 2014. For more information about Swag & Valor and the full collection of big and tall apparel available, please visit http://www.swagandvalor.com.